Lead Capture is an interactive, prospecting tool designed to help you engage new clients through online marketing. Let's walk through how to set up and utilize this tool to attract, capture, and engage prospects!
How to Set Up Lead Capture
Before you can start connecting with prospects, you'll need to configure your Lead Capture settings. With a few quick steps, you can create a customized landing page and generate a unique URL to share on your digital channels.
To set up Lead Capture:
On your advisor dashboard, click into Settings > Lead Capture
Customize Headline and Body: The headline and body sections appear on your Lead Capture landing page. eMoney pre-populates these fields with default copy but you can create a custom, branded message from your firm. Don't forget to click Save!
It's also important to note that the landing page is branded with the logo you've added to your Settings > Branding section.
Generate a Link: Click on the Generate Link button to create a unique URL. To attract prospects and direct them to the Lead Capture landing page, Copy and paste the link to your digital channels including e-mail, firm website, social media and blogs.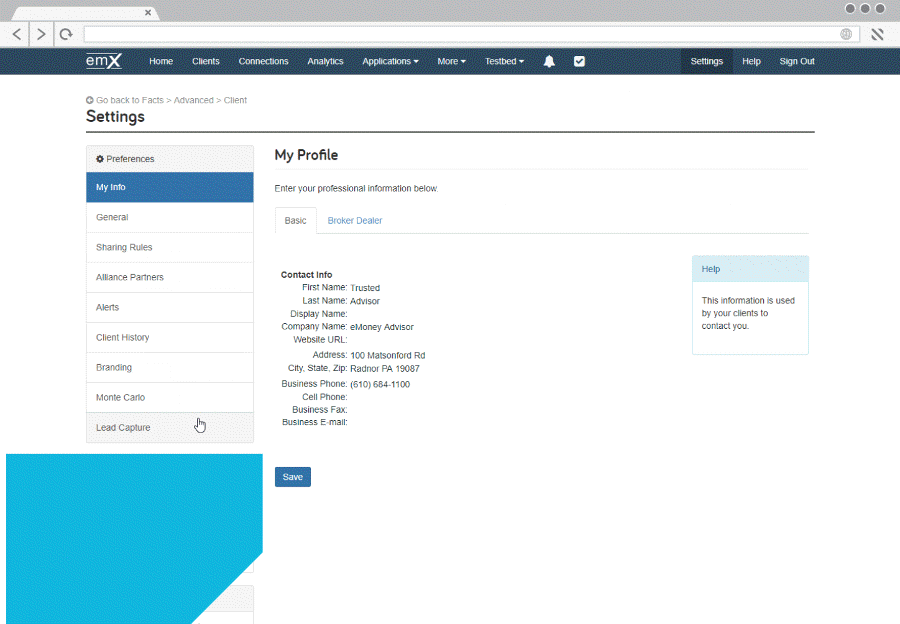 The Client Workflow
So what happens when a prospect clicks on the link? Lead Capture navigates leads through a simple workflow in which they add a financial goal and then instantly receive insights into how they are tracking towards their goal. It also gives leads the opportunity to connect with you, a financial professional when they are ready for more advice.
Select a Goal: Leads will choose between saving for retirement or saving for a future goal. They'll enter additional information to calculate if they are on track to fund their desired goal.
View Results: The results page will show the percent of the goal that is currently funded and offer simple adjustments they can make to achieve their goals.
Request a Consultation: If they're interested in talking, their next step is to enter their contact information for a consultation. You'll only receive lead information if they take the next step and submit a request.
Prior to posting on your digital channels, click on the link to familiarize yourself with the client workflow! For a look at the client workflow, see our user guide.
Capturing Leads in eMoney
You've set up Lead Capture and posted the link, but how do you make sure you don't miss a lead coming through? Don't worry, eMoney will automatically add the lead information into your advisor profile—here's where to look!
Find Leads in your Client List: Leads are instantly added to your client list and can be located by selecting Clients > By Designation > Leads.
Enable Lead Capture Alert E-Mail Notifications: This alert will send you an e-mail notification whenever a new lead is created. Click on the Alerts Icon > Manage > click into Traditional Lead Capture > Delivery Options > Add your e-mail address.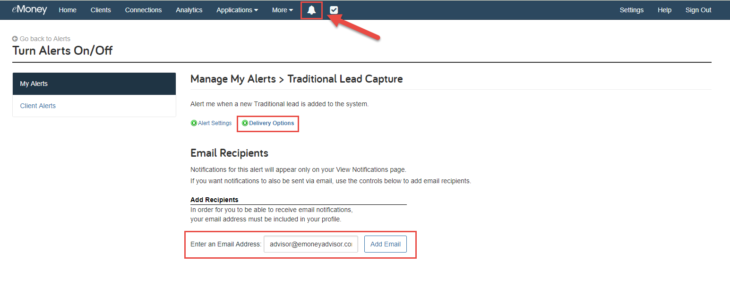 Access Lead Insights on the Client Overview Page: For more details on the lead's age, income, goals and results, click on the Notes icon > View All Notes > click into the Client Information note.

Once your lead has been captured, and you've reviewed the lead insight notes, it's time to reach out and convert them from a lead to a client!