You have just spent the time selecting a collection of reports to create and complete a presentation for your client, but what's next? It's time to save, share and present your client's financial plan! eMoney's Vault is a great tool that allows you to store documents, exchange information with your clients and share reports and presentations.
Why Send Presentations to the Vault?
Utilizing the vault can be beneficial:
To share your client's financial plan during a phone or virtual meeting
To send to your client for reference after an in-person meeting
To fact check their data at the beginning of the financial planning relationship
To provide a monthly, quarterly, or yearly snapshot of their financial plan
How to Send a Presentation to the Vault
Once you've completed your client's financial Presentation, it's time to send to the Vault. It's important to know the presentations that live under the Reports > Presentations section of eMoney do not automatically get stored in the Vault and you will need to take an extra step.
To send a presentation into the Reports folder of the Vault:
Open the Presentation by clicking on the presentation name
Under Actions, select Request Printable Presentation
In the pop-up window, complete the appropriate fields:

Select if you want the presentation to send in a Word document or a PDF file
Add a notification e-mail to alert you when the presentation has been successfully delivered to the vault

Select Print to send to Vault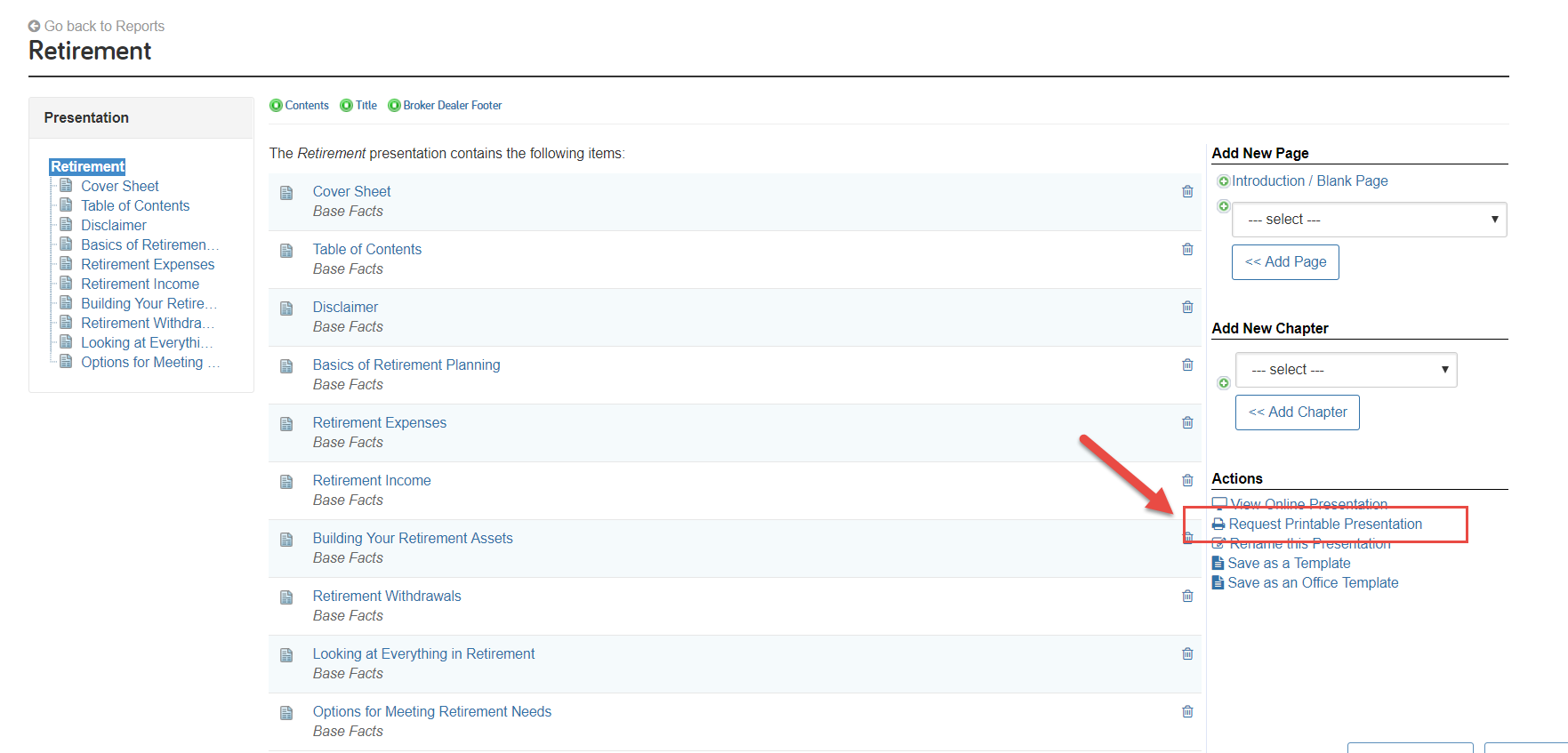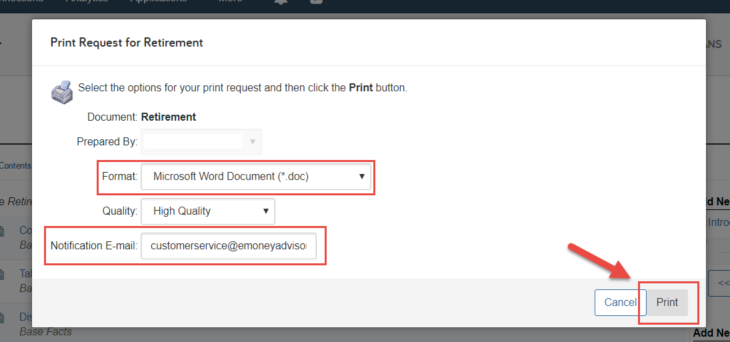 Making a Presentation Viewable to Clients
Now you can navigate to the Reports folder of the Vault and choose to share your presentation to the client's vault or print out a copy.
To send to your client's Vault:
Click into the Reports folder
Click the drop-down arrow next to Actions
Select Share with Client
When a presentation or report is visible to a client, you'll see a green check mark next to the file name
To print out a copy:
Click into the Reports folder
Double Click on the presentation name to open the document
Print the Word Document or PDF file

How to View on the Client Site
When you make a presentation or a report visible to the client, your clients can view it in their Vault on the client site. Clients will click into Vault > Reports folder > Open the specific document.

A great way to promote client engagement and ensure your clients won't miss an important document is to suggest Client Alerts. By turning on "Documents Shared to You" – your client will be notified every time a document is updated to their Vault!


---
Questions? Give us a call at 888-362-8482 or send us an email.