So you've created a marketing plan, you've started executing your strategy, and you've even begun to convert prospects into clients. You're done, right?
Not so fast. The only thing more important to the growth of your business than adding a new client, is retaining the ones you already have.
Research has shown that the top reasons clients leave their advisors comes down to one main factor—poor communication. And, it can cost six to seven times more to acquire a new client than it does to just retain an existing one.1
So let's talk about some of the things you can do throughout the client life cycle to execute our final sample strategy from the Getting Started Guide: Engage (your) current clients to become promoters & advocates that (in-turn) generate referrals.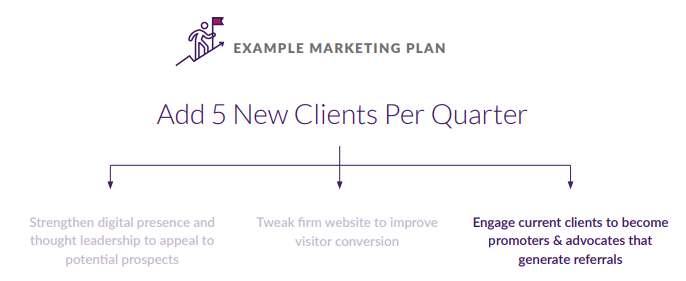 Effective client communication pays. Clients who are more satisfied with their advisor, have a stronger relationship with the firm and have a higher propensity to refer.2
Stay Consistent
It all starts with consistency. The content you share and the communications you send shouldn't solely be focused on generating new business. Identify your top client groups and what matters to them. Then search your Content Library for the type of content that will help them achieve their goals.
When creating your posting schedule for your client communications and social media, incorporate content that will delight and engage these cohorts. You should try to focus around one-third of your content on engaging with your existing client base.
Stay Relevant
Then, even more importantly, stay on top of current events. Looks for ways to address stressors that are outside your clients' control. Whether it's instability in the markets, changes in laws or regulations, or something more personal, you can be a stabilizing factor in their lives that helps reduce uncertainty and provides clarity in a complex world.
The Industry Insights category is frequently updated with content that is both timely and relevant to current events.
Build Trust and Loyalty
But none of this matters if you don't already have a strong foundation of customer care and service, which begins with responsiveness to questions and concerns. While it's important to have a strategy in place to proactively engage with clients, never let this get in the way of the most important factor in customer experience — actively listening and showing them that you care about their needs.
---
That's all for now! If you have any questions about Bamboo give us a call at 888-362-8482 or send us an email.
1. White House Office of Consumer Affairs,  2. 2014, Kitces