You've connected the accounts under your management and gained visibility into your client's holistic financial picture by rolling out the client site. You're ready to begin planning, but where to start?
Before you begin, it's critical to know your client's goals and priorities. If you haven't already had these conversations with your clients, the client site onboarding module is a great way to gather crucial information on their financial priorities.
It will also help you collect information that is essential to the cash-flow-based financial planning in eMoney. Facts like birthdays, anticipated retirement ages, income, family members, and children's ages are the pieces you need to build a complete financial picture.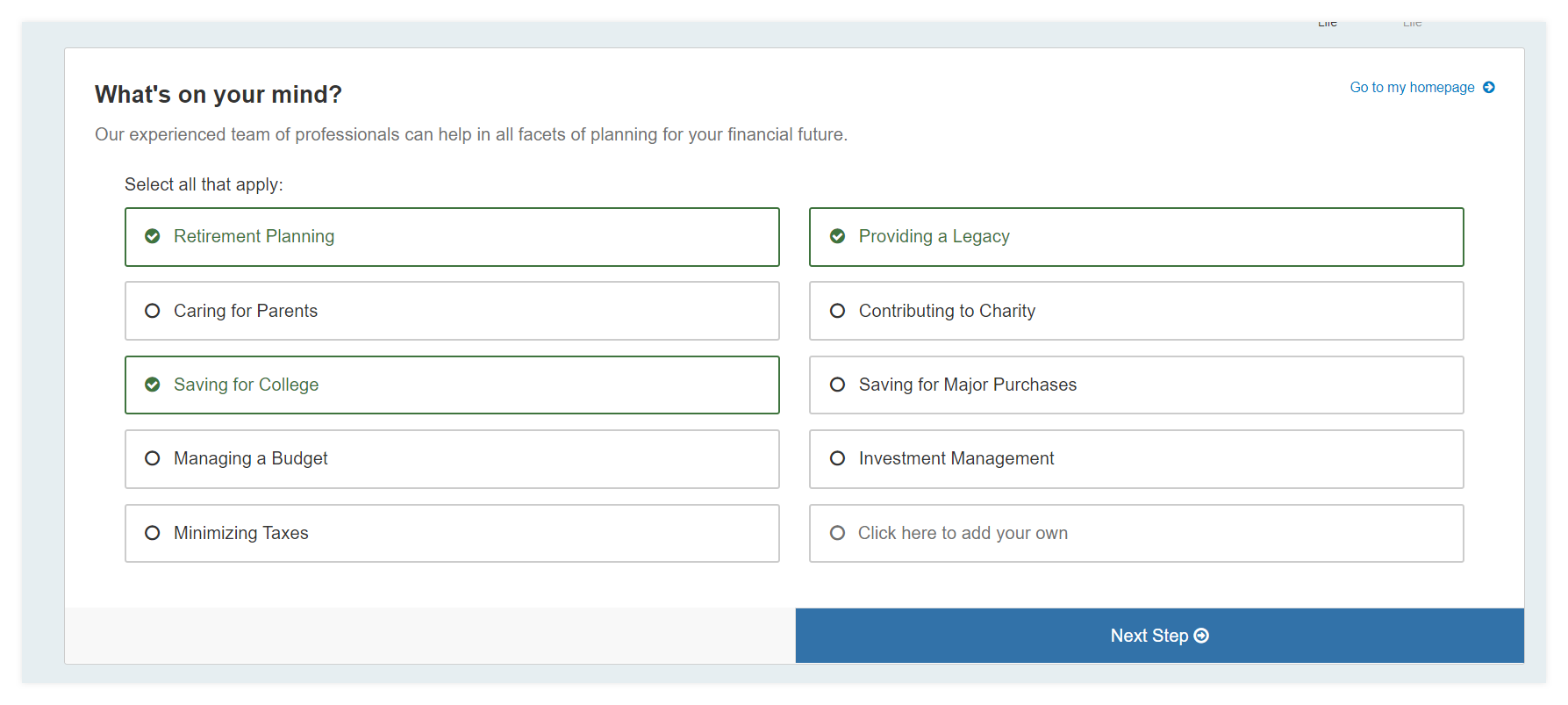 The onboarding process includes a questionnaire that clients can complete indicating their financial priorities (e.g., saving for retirement, providing a legacy, and donating to charities), what keeps them up at night, and details about themselves and their families.
Pro-Tip: To enable the onboarding module, you click the Globe Icon in the top right of the screen, select Manage, and choose Onboarding Options on the left. Select Send Client Through Onboarding, and hit Save Changes.
You can view the Financial Priorities under Facts on their Client Overview.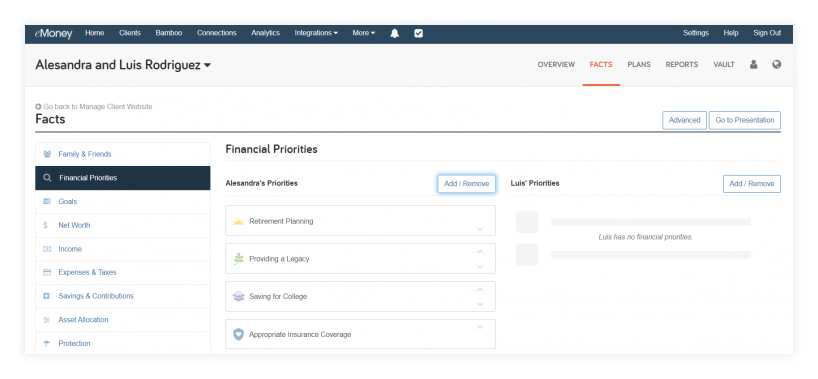 In this example, when Alesandra went through onboarding, she selected Retirement Planning, Providing a Legacy*, Saving for College, and Appropriate Insurance Coverage. Based on this information, make sure you have all the facts entered to help your client reach these goals and feel prepared.
*Providing a Legacy in the system manifests in other portions of the software such as "Leave to Heirs."
Let's start with Retirement Planning. What facts are essential to begin planning for their retirement?
Retirement Planning
For many clients, retirement planning is their top concern when working with a financial professional. Depending on their situation, they may be asking themselves questions like "Will I have enough to make it through retirement without becoming a burden to my family?" or "Will I be able to maintain my lifestyle throughout retirement?"
Regardless of their retirement concerns, there are a few facts that are required before you can begin to leverage eMoney's powerful planning tools.
As you might expect, it starts with the client's personal information. Your client's Date of Birth and that of their spouse is required so the system can understand on what year to base their future assumptions for retirement.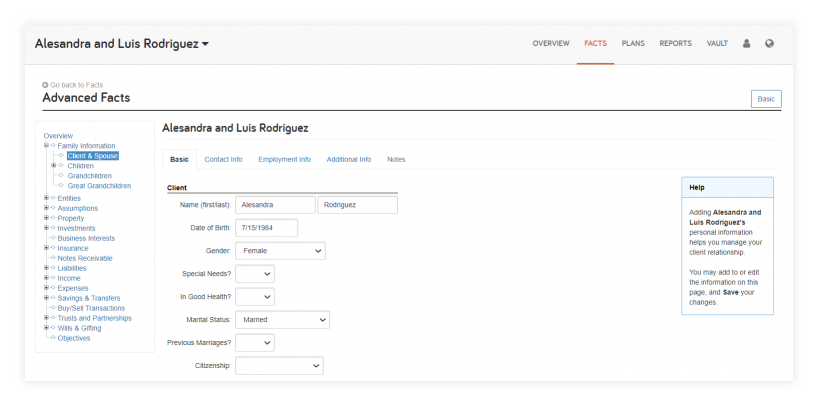 These retirement assumptions can be found under Assumptions and Miscellaneous. In addition to their Retirement Age and Life Expectancy, you'll see fields for Semi-Retirement Age and Advanced Age. These optional fields can be used to give you more flexibility in your plans for planning age-based changes to their income, expenses, asset allocation, and more. For instance, Advanced Age can be used to model increased medical or assisted living costs.
Pro-tip: You can use these age assumptions when you want more dynamic choices than using the "Calendar Year." Simulating future changes in specific time frames can help you dial in the financial plan. The software lets you use calendar years, as well as age-based time constraints, to help paint the picture of the plan.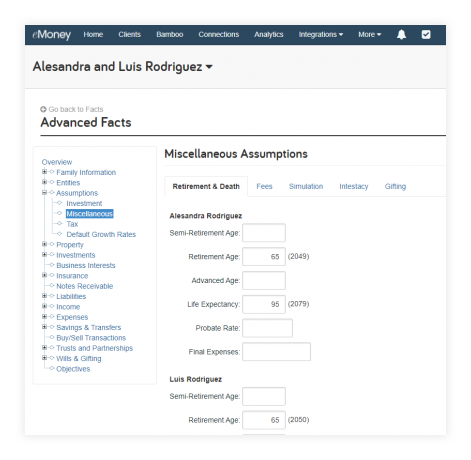 The onboarding module also asks your client to provide insights on their income and expenses. Make sure you check, and if necessary update, this information to include all pertinent data on their salaries, bonuses, and other income.
Under Income, you can also specify how their Social Security benefits should be calculated, when the benefits will begin, and how they should be indexed.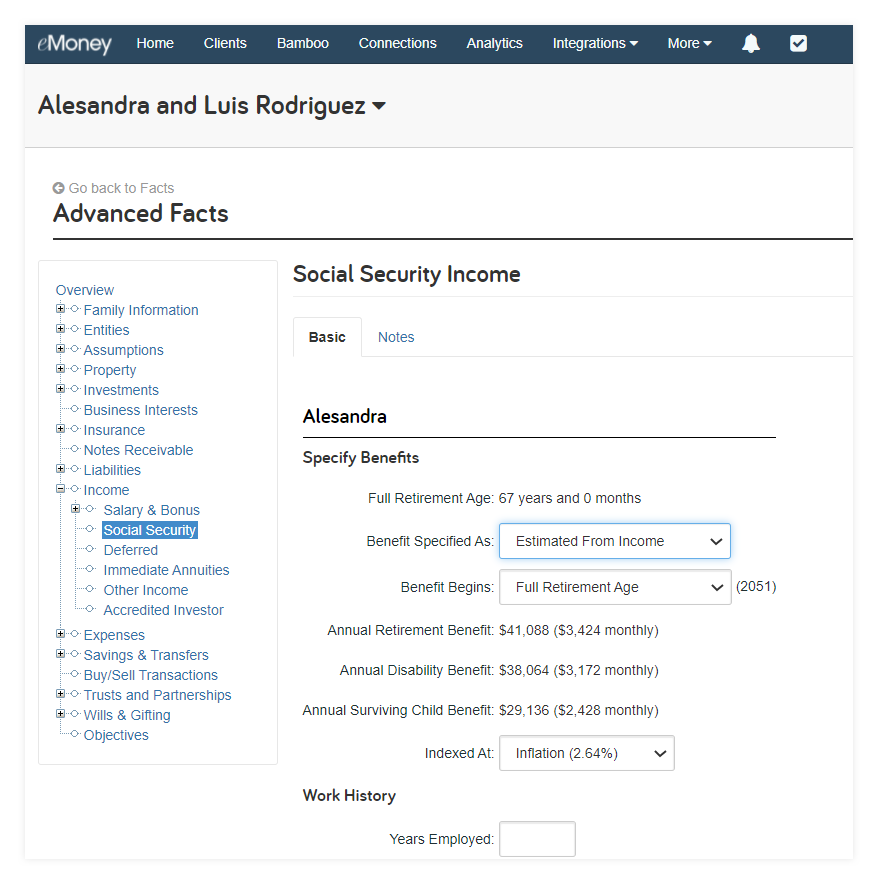 Finally, make sure your client connects any accounts not under your management, including their retirement accounts.
Once their retirement accounts are connected, it's important to set up the Contributions tab of the account to simulate their personal and employer contributions—including any employer match. For many, these workplace savings plans make up a large part of their qualified retirement assets.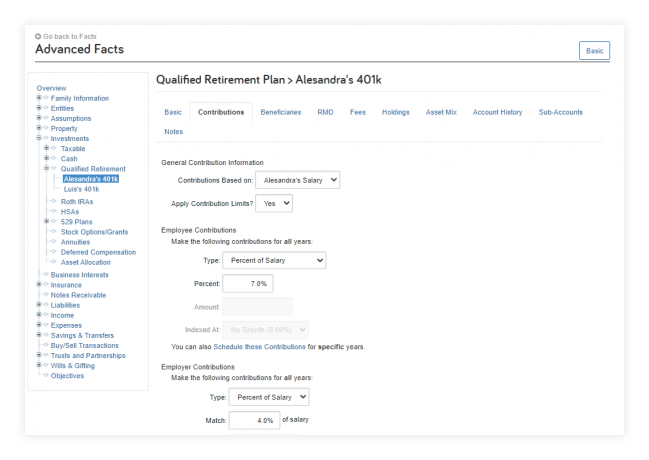 Now that you have these essential facts, you're ready to begin building a more comprehensive plan for your client's retirement.
Providing a Legacy
Leaving a legacy and ensuring support for their families can be an important goal for many clients. If your client selects this as one of their Financial Priorities, make sure you have the appropriate Family Information to address their unique family situation. Who are they most concerned about supporting when they pass?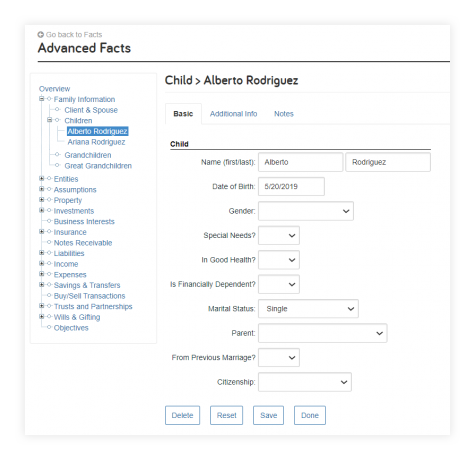 If your client has any wills or planned gifts to leave to their heirs these can also be entered into the system, under Wills & Gifting. This section allows you to add and edit information regarding wills and bequests for your clients, answer questions concerning past gifting, and add or edit information regarding planned future gifts.
Saving for College
Another big expense for a client is their children's education. Have they started saving for these expenses already or are they just getting started?
Just like the Providing a Legacy priority above, when planning for college savings it's essential to have the children's facts entered under Family Information. This will allow you to plan appropriately for future expenses based on the child's age.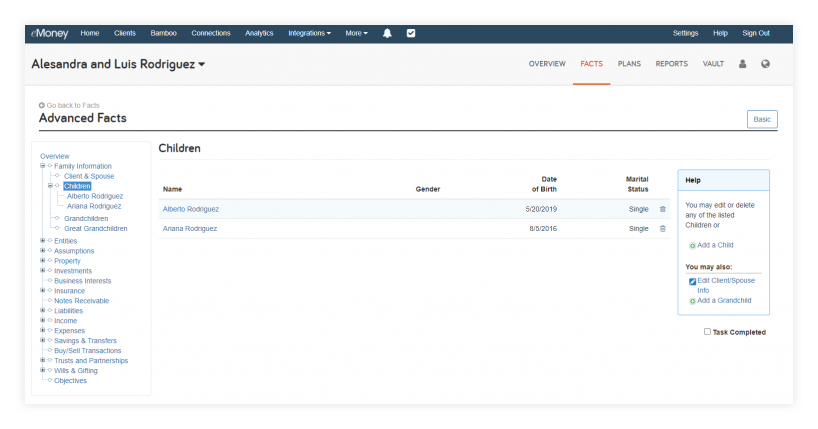 If your client already has 529 Plans for their children, they can connect these directly so you can stay up-to-date with their values and model future contributions.
An important reminder when entering 529 Plans, you will want to make your client the 'Grantor' and the child the account belongs to the 'Beneficiary.' NOTE: If the child is the beneficiary, this account will not show up as part of the estate for the purpose of the eMoney simulation.
The last step is creating a future Education Expense with as much information as possible. Here you can set the anticipated start and end dates for the expense and even use a Worksheet to pull in expected tuition from specific schools.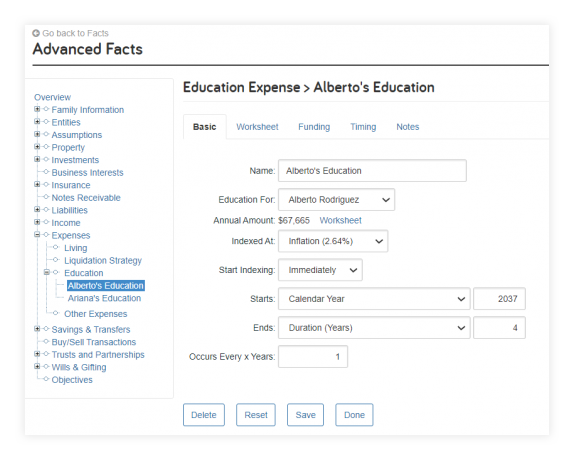 Just click Worksheet and search or select the state of the institution and then select the institution from the list.
Note: The educational information provided is as reported on the NCES (National Center for Education Statistics) website, and contains data from the U.S. Department of Education. Institute of Education Sciences, National Center for Education Statistics.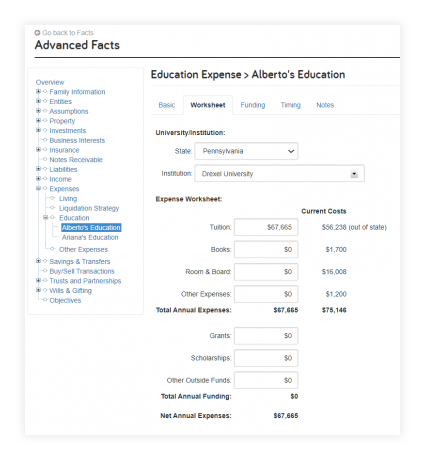 Then click over to the Funding tab to designate dedicated funding sources for the expense.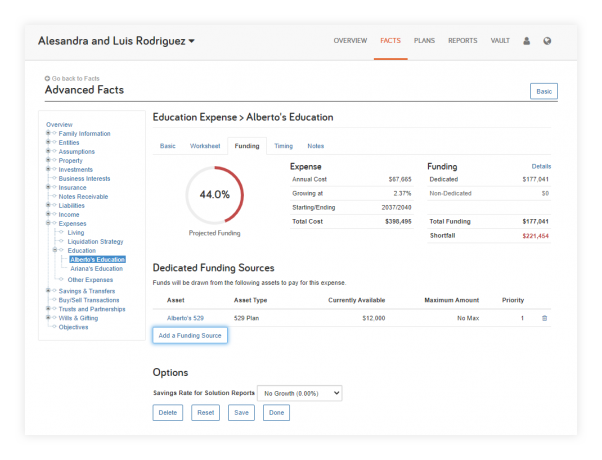 Once your funding sources are applied, head over to the Education Planning reports for solution reports like Options for Meeting Needs and Funding Your Education.
Appropriate Insurance Coverage
While the financial priority is appropriate insurance coverage, we know this means, "Will my family be ok if something happens to me?"
Whether referring to their death or a disability that prevents them from providing financial support, many individuals have some life insurance coverage through their employer—but this is not always the case.
Make sure you gather all the appropriate policy information from your client. In addition to the necessary policy information like Policy Type, Insured, and Primary Beneficiary, it's essential to complete the values of the benefits, premiums, and proceed reinvestment strategy to ensure any pre-mature death or disability what-ifs take everything into account.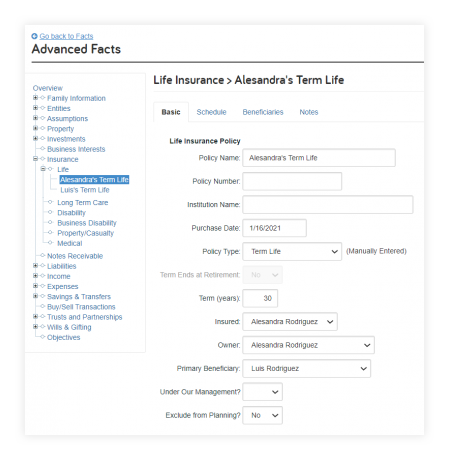 You may also want to review the rest of the tabs, such as Schedule and Beneficiaries. To ensure the cash value and benefits are calculated and distributed appropriately.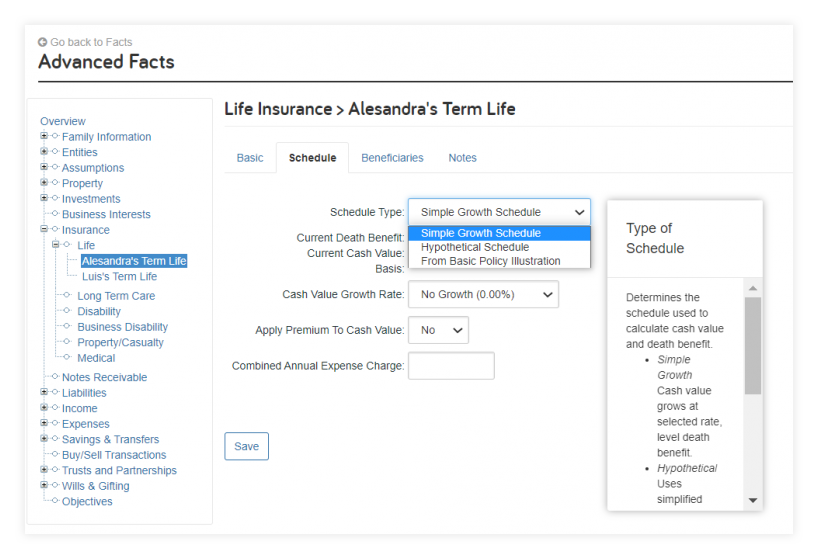 Finally, once you've ensured all the facts required for a client's retirement, education, and legacy goals—like family information, ages, income, and expenses—are captured, you should be ready to begin planning for your client's priorities.
If you run into issues entering data or have follow-up questions, go to the Help menu, located in the top right blue navigation bar, and search the Knowledge Base for How-To guides. Or call our award-winning customer support line at 888-362-8482, Monday through Friday from 8:00 a.m. to 8:00 p.m. ET.
Additional Essential Facts to Begin Planning Resources: