Millennials, also known as Gen Y, were raised with technology from a young age creating key behavioral differences from previous generations.
Millennials grew up with computers in their schools and cell phones in their hands.
They have also faced a multitude of financial obstacles, as many graduated during the 2008 recession with record-high student loan debt and the inability to find a job in their chosen career. So it's no surprise this generation has different lifestyles, professional priorities, and habits compared to the generations before them.
With a simplified process for creating goals beyond retirement, Foundational Planning is a great way to work with millennial clients.
Let's take a look at how you can best support this client base:
Once you have all the client's information, whether entered through Facts or collected via the Client Site, go to the Plan tab in their Client Overview.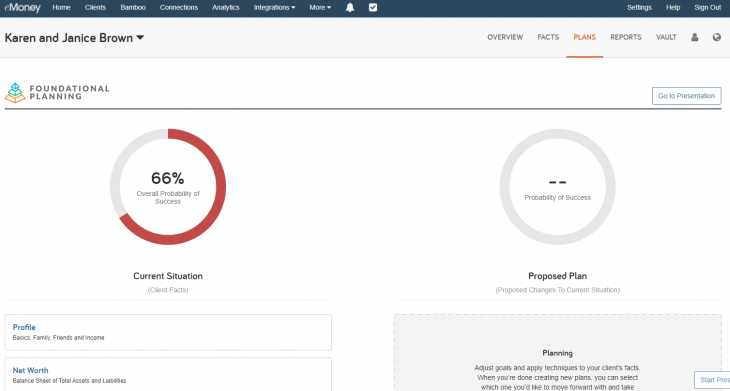 Under the Goals section, you can enter essentials like saving for retirement, saving for a home, still being able to travel, paying off credit cards, etc.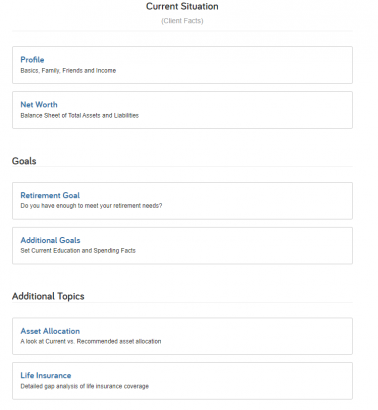 Start with the Retirement Goals since most Millennials are not saving enough for retirement. Once you select Retirement Goals start working your way through the questions being asked. This is where you can take actions like increasing or decreasing the retirement age, adding additional income, or decreasing expenses to see what can help your client hit their goals. Hit Next Step after each change until you get to the Analysis page.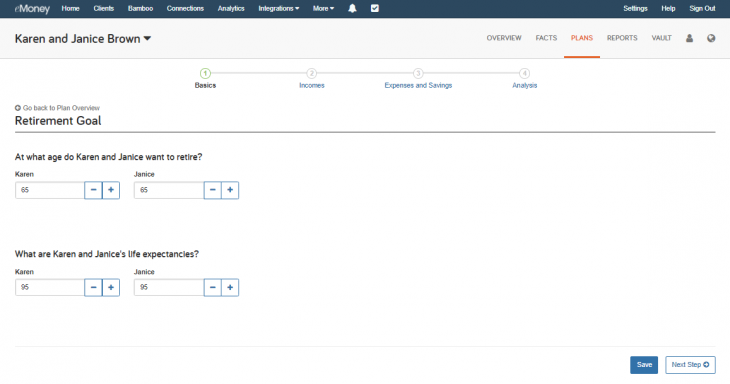 And then select Go to Planning.
This is where you can see a side-by-side comparison of your client's current plan versus the one you just made.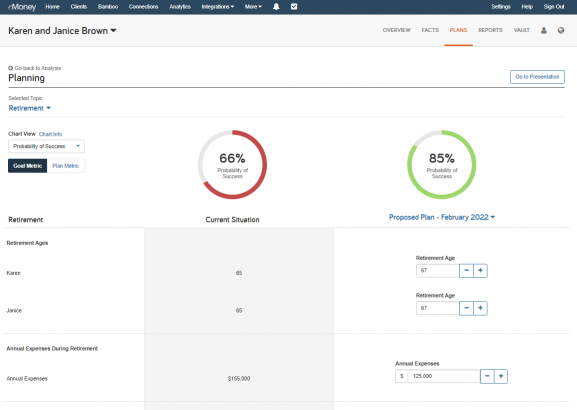 Once you are satisfied with the results, you can scroll to the bottom of the page and hit Set Plan as Active.
Now every time you go to Plans you can see the side-by-side comparison. If your client wants to set more goals, such as saving for a house, select Additional Goals under the Goals section.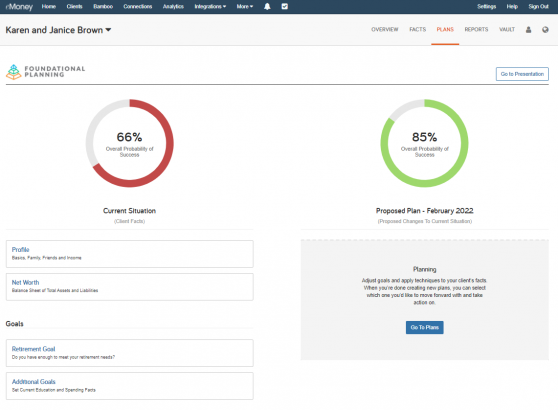 Click Add Goals.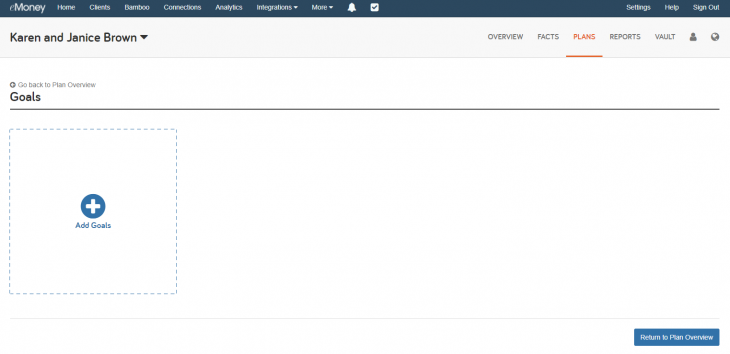 This is where you can enter traveling, saving for a home, and anything else your client is interested in.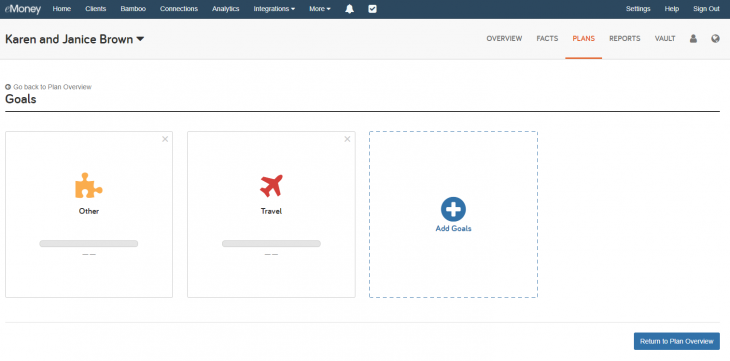 Once they are entered you can click on each box and provide more detail about each goal. Here you can change Other to Saving for a Home. Maybe they need $25,000 for the down payment and closing costs and want to move by 2024. Enter the appropriate information below and click Save, and then Next Steps.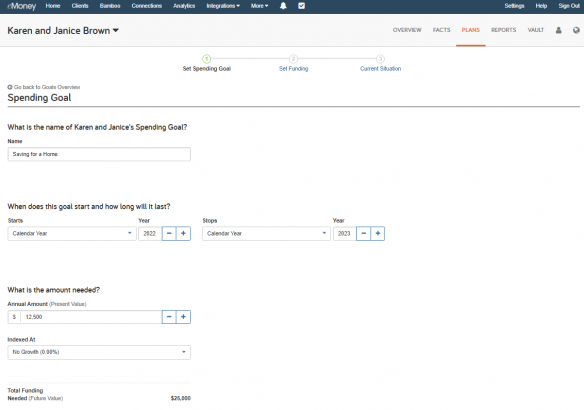 Next, you must select a funding source. Select Add and you will see all options available based on the facts and income entered. For this example, use savings from both Karen and Janice.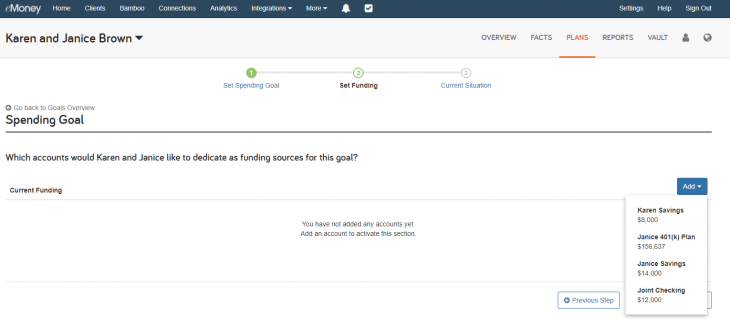 Once added, click Next Steps to see they will fall short of their goal.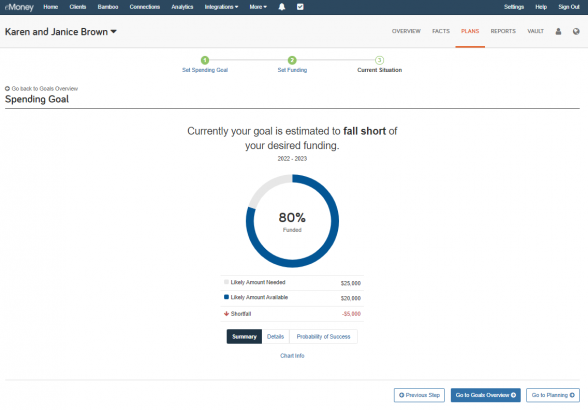 Select Go To Planning to get more information on the breakdown of their goal. This is where you can make changes as you did for the Retirement Goal, and show the client what they will need to change to meet their goal. For this example, the annual amount was lowered and the funding accounts were changed to get them to their goal.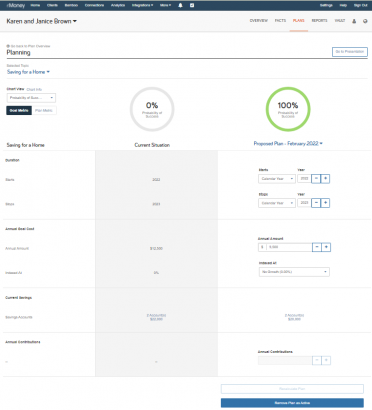 To view the other goals, change the topic in the left corner, where it says Selected Topic, and change from Saving for a Home to Travel or view the retirement goal.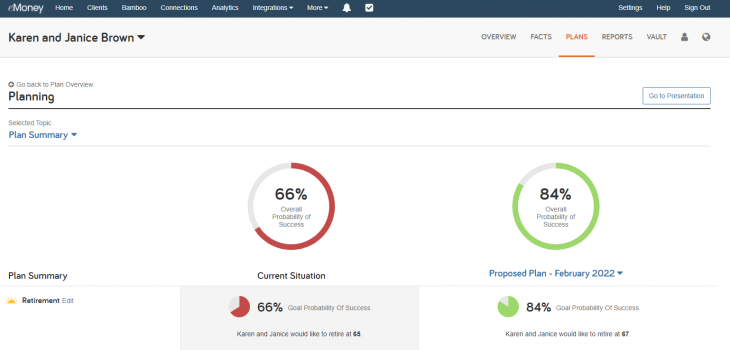 You can also select Go to Presentation.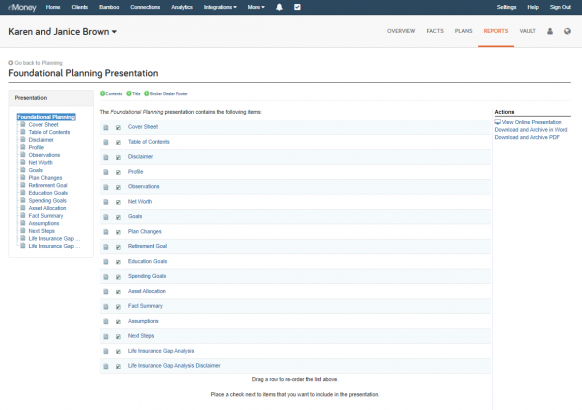 Select all the presentation materials you wish to save for your client. You can view the online version if you are meeting the client in person, or download the materials and save them to the vault for your client to view from their client site.
Tech-savvy Millennials will enjoy using the client site to view everything in one place, build their goals, and track their progress as they mature through Foundational Planning to become Advanced Planning clients as their portfolio grows!
Additional Foundational Planning Resources
---
Stay tuned for more best practices on how to deliver more plans for more clients more efficiently. Or click the link below to watch previously recorded webinars from our training team! Learn More