Alerts help you track client activity and notify you of opportunities relating to your clients in eMoney.
There are two categories of alerts; My Alerts and Client Alerts. My Alerts are personal alerts you can set so you know when a task is overdue or when you have a new lead through Lead Capture. Client Alerts are for individual clients. They include General Alerts and Investment Alerts that will notify you of client activity, investment changes, or important dates.
Today, let's look at how to set delivery options for alerts so you never miss an important action or event.
Alert Notifications
A triggered alert will automatically show in the Financial Feed on the homepage of your advisor site. However, if you're concerned you may overlook an alert on your feed, you can also use Delivery Options to have notifications sent directly to your email.
We recently added one of our most popular feature requests: The ability to set and manage alerts for your entire client base in one click. You can now use the Save for All Clients option to apply the delivery settings for all clients across a given type of alert, removing the need to manually add the same setting for each client.
To set delivery options:
Click Client Alerts
Select Delivery Options
Enter an email address
Click Save for All Clients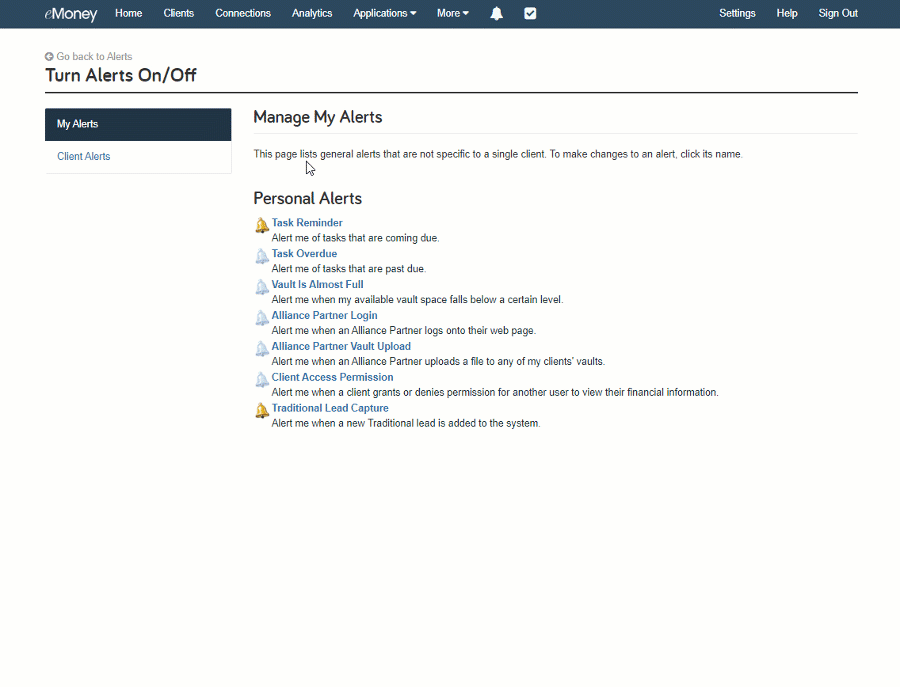 With this update, you'll have a more intuitive and streamlined process for managing alerts in eMoney. For more information on alerts, check out Utilizing Advisor Alerts and Increase Engagement with Client Alerts.