Content marketing is a practical approach to building trust in your brand, generating leads online, and demonstrating to clients and prospects that you have the expertise to address their financial concerns.
With Bamboo, you have access to over 2,000 pieces of content that you can post to your social media platforms and share through email.
Today, we'll look at your Bamboo share options and some email and social marketing best practices.
Social Sharing
Consistently posting valuable content on social expands your digital footprint and differentiates you. With Bamboo, you can build your social presence and reach clients and prospects on Facebook, Twitter, and LinkedIn by simply clicking the share link beneath the content titles in your Content Library and eMoney Materials sections.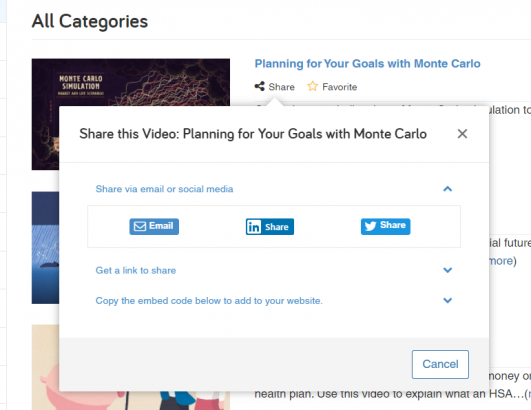 You can also utilize our topical content and industry insights for your blog. Just remember to attribute FMeX or Bamboo as the source and link to the source you're referencing. Example: "Article Title." Source. Date Month Year Published. URL.
Looking for social sharing pro-tips? Check out 5 Creative Ways Financial Professionals Can Use Social Media.
Email Sharing
Like social sharing, you can click the share link beneath the content titles to send pre-made emails focused on the specific content piece.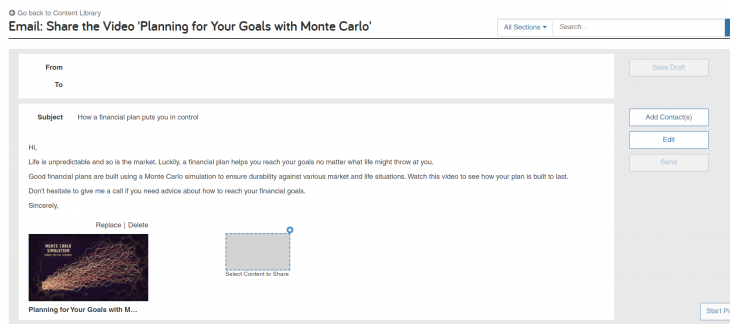 Or you can navigate to our Emails section, where you have access to email templates for life events, financial milestones, and holidays to stay top of mind with clients.
You can also take a personalized approach by creating your email communication and customizing your language, subject line, and header image. You can attach one or more content items from the Content Library to engage clients and prospects on financial topics, industry insights, and relevant news.

With Bamboo, you can easily email individual clients, your eMoney client groups, or import a list of prospects who aren't yet part of your client list.
Looking for email marketing pro-tips? Check out 7 Email Marketing Tips for Financial Professionals.
Now, you're ready to start sharing. Don't forget your Bamboo resources are always accessible from your in-app Help menu—search 'Bamboo' to reference interactive user guides, how-to tours, video guides, and more.