When does your client experience begin?
If your answer is "when I get a new client" you're missing a huge opportunity.
The client life cycle begins long before a prospect becomes your client, and like you should never stop dating your partner after marriage you should never stop engaging with your clients.
That's why Advisor Branded Marketing simplifies the process of engaging clients throughout the entire client lifecycle.
By providing targeted marketing campaigns (and new ones released every month) to attract and nurture leads, materials to simplify the process of onboarding new clients, and newsletters designed to keep existing clients engaged.
---
Demo Advisor Branded Marketing today and learn how to upgrade your client experience.
---
Here's how Advisor Branded Marketing helps you increase your influence and improve your client experience across the entire client life cycle: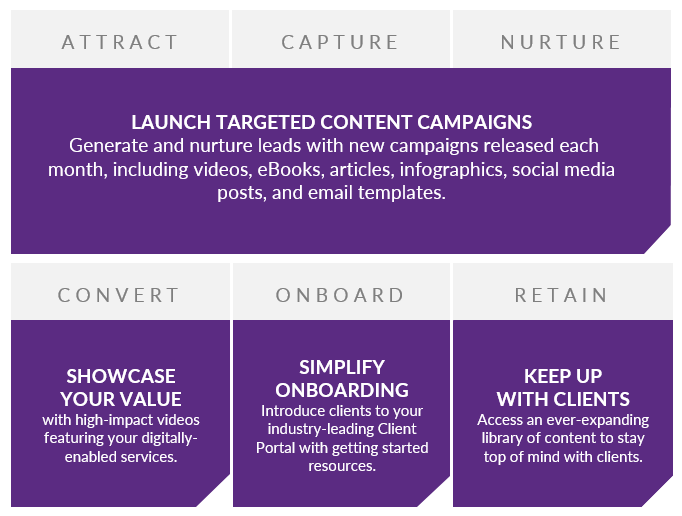 But don't take my word for it let's dig into each category and show how you can use Advisor Branded Marketing.
---
With Advisor Branded Marketing you can launch content campaigns that focus on the niche markets your targeting whether. Each month, we launch a new targeted content campaign that includes videos, articles, infographics, and ebooks designed to help you attract and capture the attention of prospects.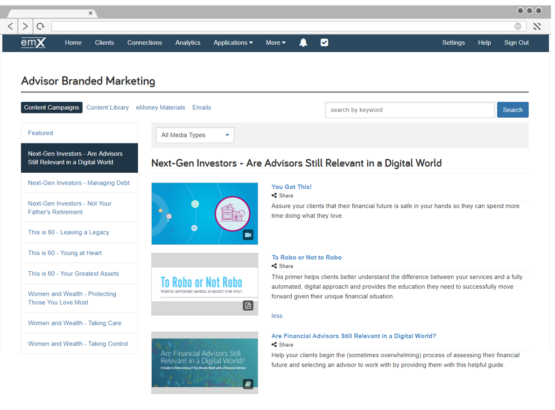 Execute these campaigns through email and social media. We even provide suggested post content or you can customize your post to supplement an existing campaign. With thousands of pieces of content, you'll never have to worry about having the right content for every conversation.
Once you've attracted their attention and captured their interest create a custom landing page to convert them to a true prospect.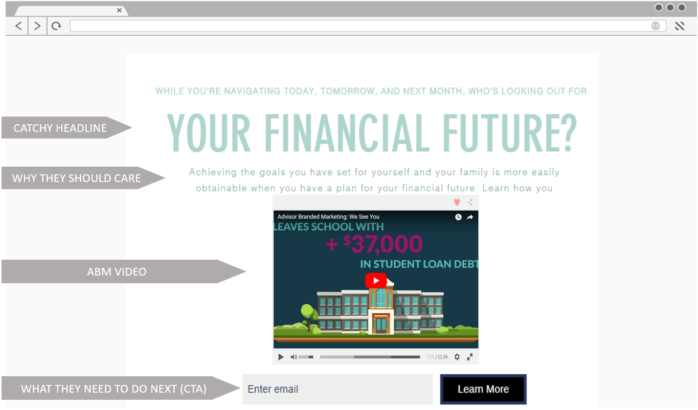 Tailor the landing page to the content campaign that gained their interest and when they complete your call-to-action follow up right message to turn their interest into a phone call or a meeting.
A meeting where you can wow them with a welcome package that shows how your expertise and the right personal financial management portal can help them start down the path to financial independence.
Advisor Branded Marketing's eMoney Materials provide you with the necessary pdf's to promote the Client Portal to non-users and the necessary guides to help new users through initial onboarding. We recommend setting up a drip campaign to check in with your new users and help them get to know each aspect of the Client Portal over time. This will keep them engaged but not overwhelmed.
Start with the essentials like Getting Started and Connections before moving into Setting Goals and Budgets.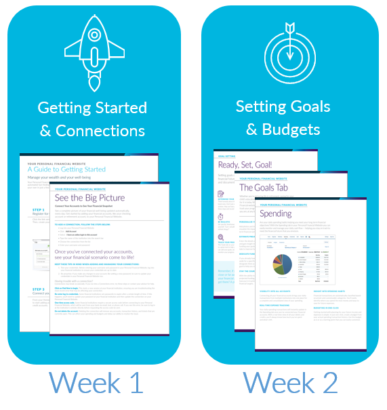 Once they've begun to enter their important financial data into the client portal help them set the right alerts to monitor their accounts and show them how the Vault provides secure and unlimited storage for their most important documents.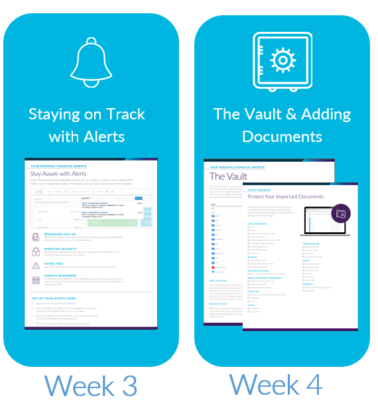 Then show them best practices for making their personal financial management site work for them and how it integrates into their financial picture by sharing your screen and showing them their financial plan live through the interactive Goal Planner, Decision Center, and Distribution Center.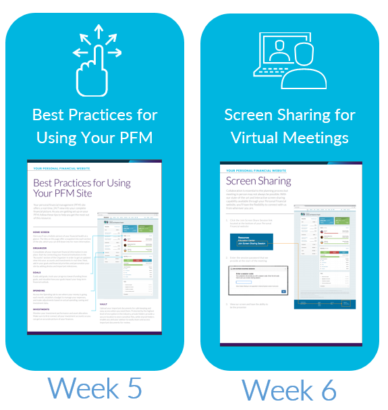 Once your new clients have settled in and are no longer "new" clients it's still important to keep in touch. Check the Featured Section for the newest items about current events and market news that might be relevant to them.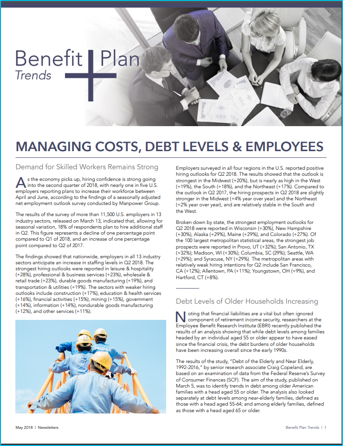 If they're the type the likes to stay on top of the latest news Advisor Branded Marketing provide personalized and relevant insights to different cohorts with targeted newsletters that you can use to create a consistent engagement schedule.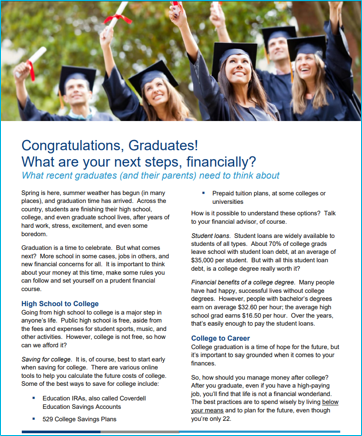 And of course, never forget their most important dates by pairing the marketing platform with your Client Alerts. With emails for every occasion, you can keep in touch and stay top of mind with clients.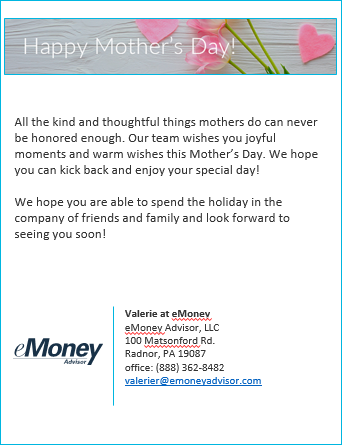 Looking for even more insight into how to use Advisor Branded Marking to engage with you clients? Schedule a today!