This new year, take advantage of your resources to refresh your eMoney knowledge, onboard new support users in your office, and stay up to date on new features and product releases.
Whether you are just getting started or an experienced user, there are always new techniques to learn and different ways you can incorporate eMoney into your business. And knowing where to locate your resources and how to utilize them is the first step!
The Knowledge Base
Check out the Knowledge Base to learn more about data input, planning techniques, and more. It has virtual learning courses and a library of user guides, video tutorials, and interactive how-tos to view on your own time and at your own pace. You can access the Knowledge Base by clicking on the Help tab on your homepage.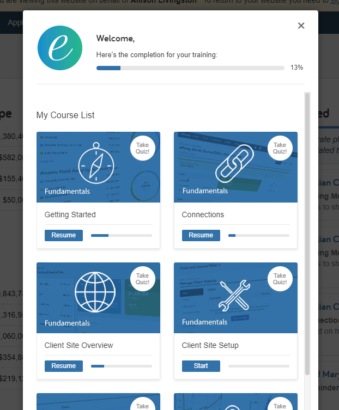 Live Training and Webinar​s
Continue your eMoney education with live training sessions and weekly webinars. You can visit the training page through the Help tab on your homepage. Here, you can view the live training locations and agenda, weekly webinar schedule, and recordings of past sessions. You'll also be able to learn more about the training options and register for upcoming sessions.
The eMoney training team hosts webinars every Wednesday at 2:00 p.m. ET. Sessions focus on topic overviews, best practices, and new product releases.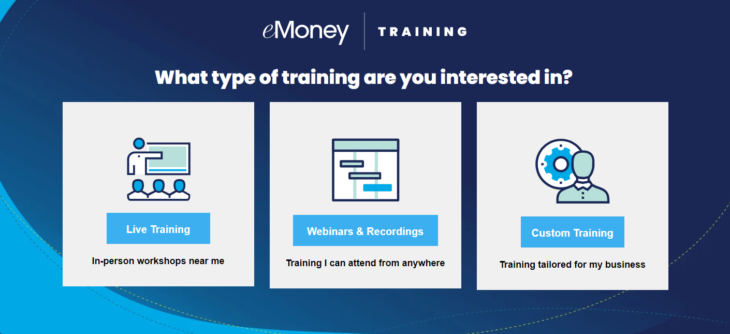 Interactive FAQs
Developed based on your feedback, the interactive FAQs provide answers to the most common questions received by the eMoney Client Services, Financial Planning, and Data Services teams. You can access this page in the Knowledge Base and in your eMoney footer.
The FAQs are organized into categories like Connections, Client Website, Cash Flow, and more. When you click on a category, an expandable list of the most common questions related to that topic will appear.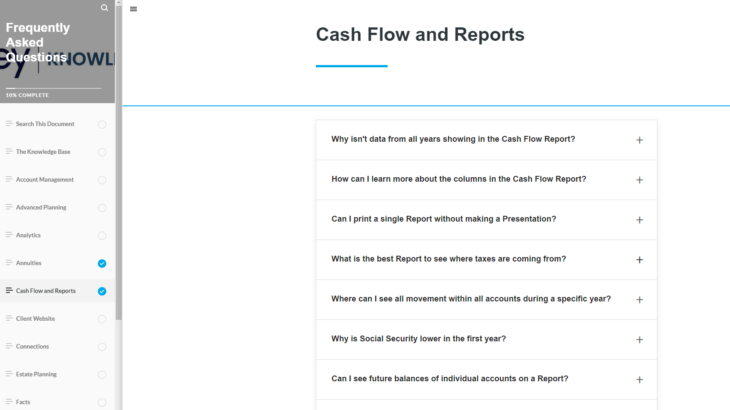 Pro tip: Do you know about intellitips? Intellitips help you to learn more about a field in Facts or a column in Reports. To access an intellitip, hover over a specific field or column and a pop up description will appear.
Finally, don't forget our Customer Service team is always happy to help through our live chat feature, by email, and by phone at 888-362-8482.