We know that support should be immediately accessible and able to provide the answers you need quickly. But it's more than just getting answers when you need them. Whether you're just getting started or an experienced user, there are always new techniques to learn and different ways to incorporate eMoney into your business.
That's why we offer something for users of every experience level. Keep reading below for more details on all the resources available to you as an eMoney subscriber:
eMoney Knowledge Base
Your primary support resource, the Knowledge Base, located under Help on your navigation bar, is a library of interactive how-tos, user guides, and videos. Search or browse the Knowledge Base to get help with all of the eMoney tools.
Our Help menu is designed with two tabs, Suggested Help showcases resources specific to the page you're on, while All Help allows you to take a deeper dive into all the available help resources.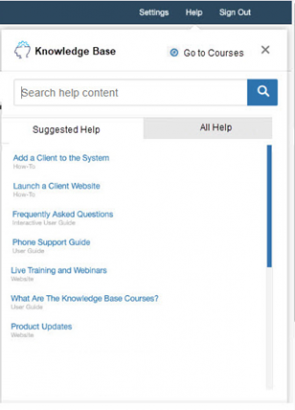 How-tos provide immediate assistance with on-screen guidance designed to quickly show you how to navigate and complete tasks within eMoney.
In addition to the two-tab interface, the Go to Courses link brings you to a series of curated videos, user guides, and interactive FAQs designed to help you level up your competency on eMoney's core functionality.
Live Training and Webinar​s
Within the Knowledge Base, you'll also find the Live Training and Webinar link, which takes you to our training page, where you can continue your eMoney education with live training sessions and weekly webinars. Here, you can view the upcoming weekly webinars and live training events happening at eMoney or listen to past session recordings.
The eMoney training team hosts daily webinars for intermediate and advanced users and are designed to deepen your knowledge of the platform. Click here to visit the eMoney Training page.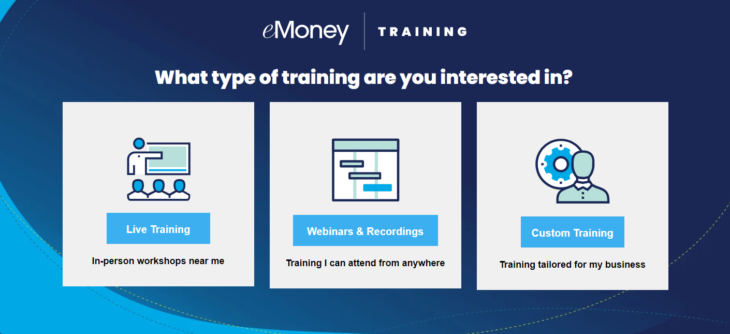 Continuing Education Program
Join our Continuing Education Program to receive invitations to free monthly webinars for CFP® professionals. Our CE sessions are designed and taught by our on-staff CFP® professionals, so you can be sure that the webinar topics are relevant and that you will get the answers you need to your advanced planning questions.
Learn more or sign up now at https://emoneyadvisor.com/continuing-education/.
eMoney & Heart of Advice Blogs
The eMoney Blog provides resources for users looking to do more within the eMoney platform. At the eMoney Blog, you can check out best practices, webinars, and product updates to help you work more efficiently within the application.
Whether you want to learn about the latest features, training opportunities, or best practices you can find everything you need on the eMoney Blog at https://blog.emoneyadvisor.com/.
The Heart of Advice blog provides insights and best practices for successful financial planning engagement across the entire client lifecycle. Check out the Heart of Advice blog for webinars, case studies, ebooks, and more at https://emoneyadvisor.com/blog/.
Client Support
When you're unable to find the answer via in-app help our award-winning Customer Service team is always happy to help through our live chat, by email, and by phone at 888-362-8482.
Our highly trained client support specialists are available to answer any questions you have about working within our application Monday through Friday, 8:00 a.m. to 8:00 p.m. ET.
You can learn more about our support services at https://emoneyadvisor.com/solutions/services/.