We know how important data aggregation is to you and your clients, so to enhance your experience when reporting connection-related issues, we have moved the connection ticket management system to Salesforce.
This means more visibility and flexibility regarding open service tickets and the ability to follow up via email from any device.
Your new Connections support workflow:
Click the Report a Problem link as usual to begin your support request and complete the form by selecting a Topic from the included list, providing details regarding the issue in the Message field, telling us the impacted Client (optional), and entering one or more email addresses in the new Send Replies To field.
It's essential to add as much detail as possible in the Message field so we can expedite the resolution of your issue.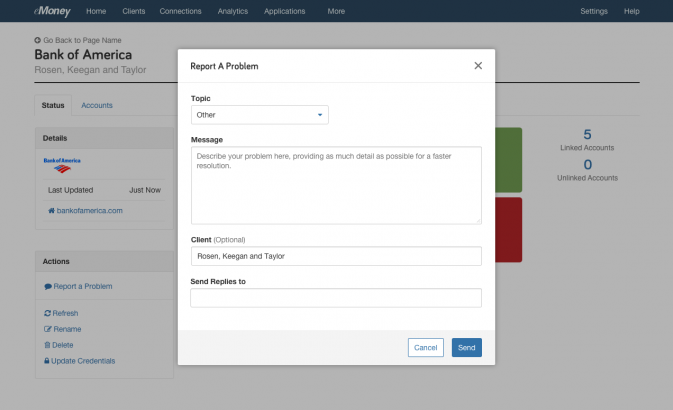 Once you click Send, you'll receive a summary that includes your Case Number and Contact Email(s). We'll provide updates to the provided Contact Emails as we work to resolve your request.
It's important to note that the connections Support tab has sunset as part of this enhancement. Ticket history previously available through the Support tab will be unavailable following this change. You'll receive updates on your connection support requests via the provided Contact Emails—rather than being required to track updates within the application—as we work to resolve your request. 
When you update a request using the Update Reported Problem link you'll receive an email for your records.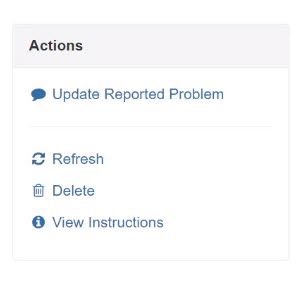 Here you can Mark As Resolved, provide additional information to our support team, or view the status and details from the original request.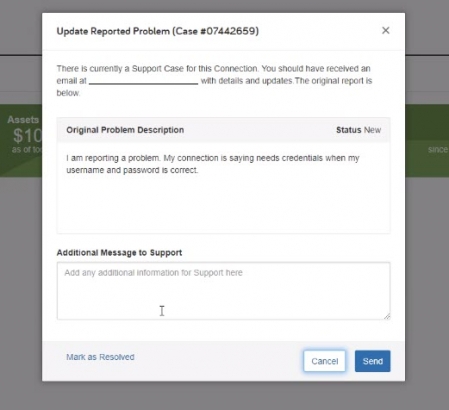 We have also made minor adjustments to the Advisor Connections Dashboard to make finding information about your case easier. When there is an open Support Case you can update the request through a case number link on the dashboard—otherwise, No Open Case will be displayed.

Finally, as part of this update, we have retired the datasupport@emoneyadvisor.com inbox—to ensure all connection-related issues are tracked properly, they should be submitted using the Report a Problem workflow within the eMoney application.
To access additional Connection resources, visit the Help tab of your advisor site and search for the Connection FAQ and All About Connections interactive user guides.