---
For this week's tip, we're going to revisit one of our most popular articles about using eMoney's Decision Center to present to prospects using sample clients. Check it out below!
---
You've landed the meeting with the prospect you've had your eye on for months. Now's your chance to show them why you're the perfect advisor to fit their needs … how do you do it?
With eMoney's Sample Clients, you can use the Decision Center to show your prospects how you engage with your clients—before a single fact is gathered. The eMoney Sample Clients are based on real-world scenarios and have been constructed in a way to allow you to easily demonstrate your value to a client or prospect.
Watch our eMoney Live Trainer, Caitlyn Conlin, demonstrate how to present eMoney to your prospects in the video below.
Here's a breakdown of Caitlyn's presentation…
Set the scene by bringing your sample clients to life.
When using a sample client in your presentation, it's important to explain who they are and highlight any similarities between their case and your prospect's.
A best practice is to use sample clients who share a similar financial situation and life status as your prospect. For example, sample clients Frank and Joanna Miller are in their early fifties, bring in a total annual income of $350,000 pre-tax, and have 3 children ranging from their late teens to early twenties. They've saved well but are looking to take their retirement and goal planning more seriously as their children approach adulthood.
Create an Interactive Story With the Decision Center
Head to the Decision Center to take the pre-built advanced plans and techniques available with the Millers and show the impact and repercussions of each financial decision.
1) Start by showing their current financial status.
Initially, the Millers are not making it through retirement—even with their savings. They've saved well and have over 1 million dollars in various assets. However, their assets are only going to last them to their mid-eighties(age 86)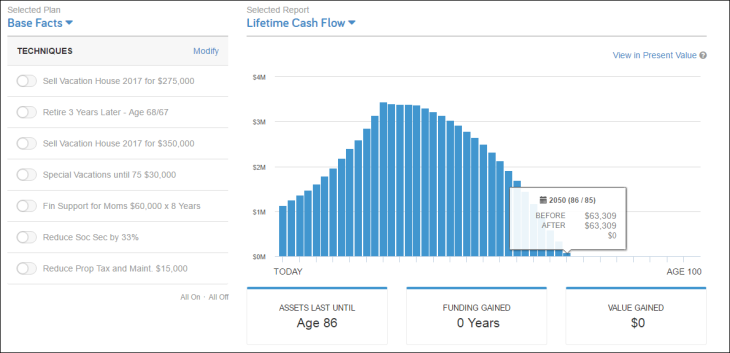 2) Then, add their known expenses.
One of Frank's future expenses is to financially support his mother in her advanced age for the next eight years. We created a technique to add the expense of taking care of Mom for the next eight years, which removes three years of funding and over $800,000.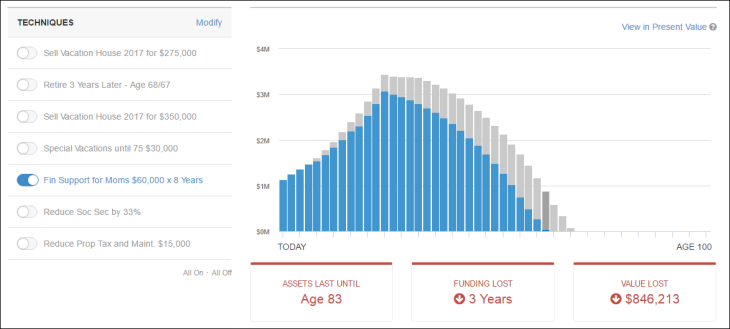 3) Next, simulate the Sample Clients' financial goals.
Frank and Joanna also want to travel across Europe, Asia, and South America, so we've created a technique to simulate spending $30,000 a year until age 75.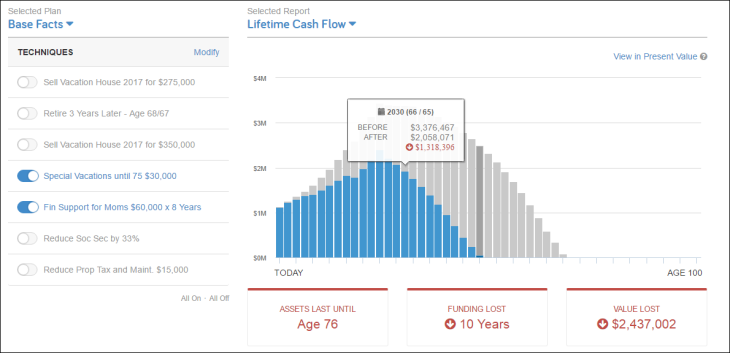 4) Incorporate the Sample Clients' financial fears.
The Millers mentioned they're worried about Social Security lasting through their retirement and didn't want to count on it still being 100% funded. In this case, we've created a technique to reduce their Social Security income by 33%.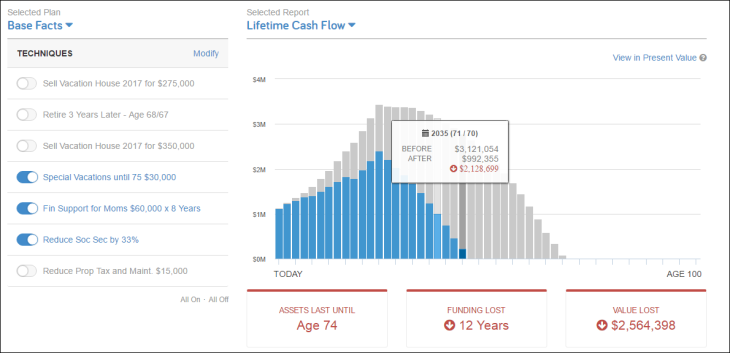 5) Finally, show them how all the pieces fit together.
After incorporating the Millers' major expenses, goals, and fears, the Decision Center shows that their savings will only last to their mid-seventies. Now it's time to start building a plan.
With this context, it's easy to get more information from the Millers. We learn that they're comfortable working a little longer to hit their goals. So we created a technique to delay their retirement for three years, bringing them from 12 years of funding lost back down to five.
It also turns out that the Millers have a vacation house that they've been using less and less.
Regardless of how much they sell the vacation house for, they'll reduce their property taxes and annual maintenance costs by $15,000 a year, putting them back in the green and gaining two years of funding.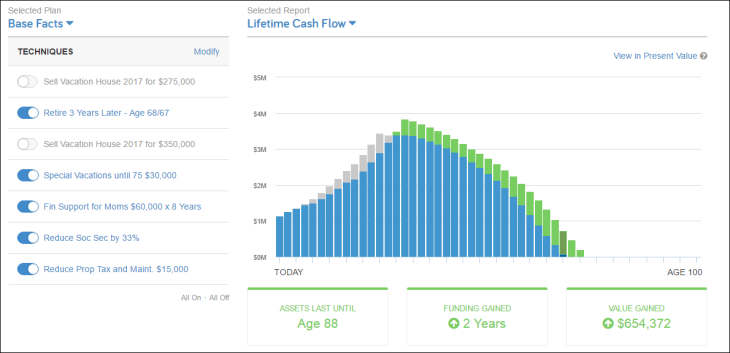 We determined the Millers should get a minimum of $275,000 from the sale of the house and the highest they could expect would be $350,000. When they sell that home and put it into their portfolio, it gains them from nine to 10 years of funding.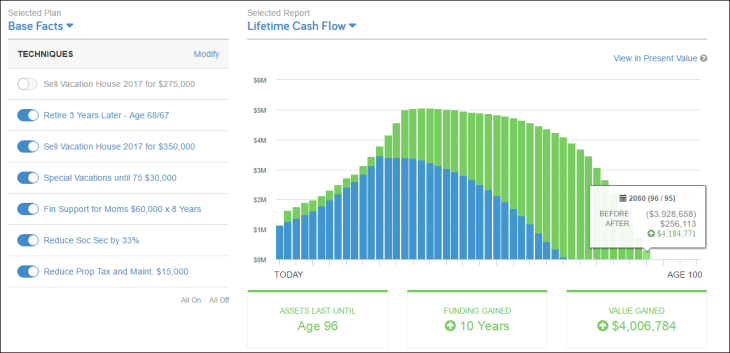 The power of being able to show your prospects and clients how their decisions can impact their financial future in a live and interactive manner is undeniable.
The pre-built techniques included with Sample Clients allow you to jump-start a conversation with your prospects and convert them to clients. From there, you can create advanced plans and what-if scenarios to dig into their investments, find ways to save on taxes, prepare for the unexpected, and so much more.