With the end of the year quickly approaching, it's a great time to archive your clients' 2020 reports. Once eMoney rolls over to 2021, you won't be able to look back at past years without saved reports.
Let's review how to save reports and presentations to the Vault and create a snapshot of your clients' 2020 financial pictures to reference in the future.
Reports
We recommend saving the Cash Flow, Balance Sheet and Net Worth Statement reports. These give a great overview of the clients' 2020 assets, liabilities, income, and expenses. To save to the Vault:
Click Reports on the client Overview page
Select the report
Click on Generate > Send To Vault
This will send the report to the Reports folder of the Vault. From there, you can rename the file, move the file to the Archived Reports sub-folder and share it with your client.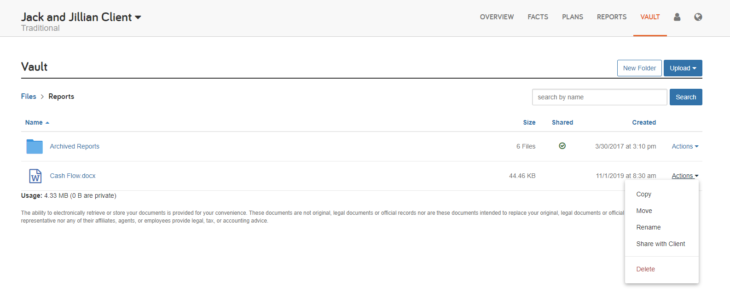 Presentations
For more detailed information, consider saving the Facts and Current Financial Condition presentations.
To find the Facts presentation, click into a client's Facts and view the Basic Facts, not Advanced. Select Go to Presentation. This presentation includes reports such as Goals, Income and Savings Summary, and Liabilities and Expenses Summary.
You can download this presentation to save to your computer but it's important to note, you can't directly send it to the Vault.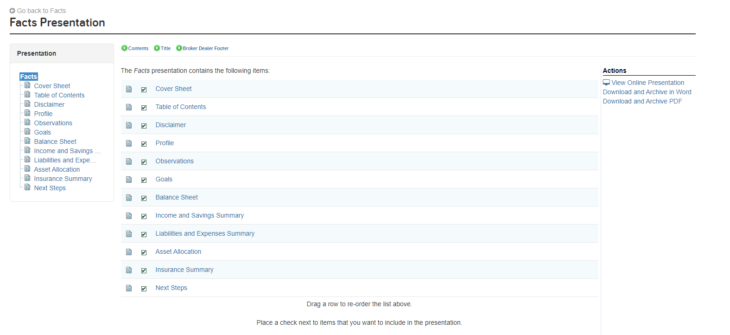 Now, let's look at the Current Financial Condition. To create this presentation, follow these steps:
Click Reports on the client Overview page
Select Presentations > New Presentation > add a Blank Presentation
Click on the drop-down box under Add a New Chapter
Select Current Financial Condition
This chapter includes nine reports such as the Balance Sheet, Cash Flow, and Living Expense Worksheet. From here, you can save to the Vault by clicking Request Printable Presentation.
Pro tip: You can also Save as a Template so you can generate and save this presentation for all your clients.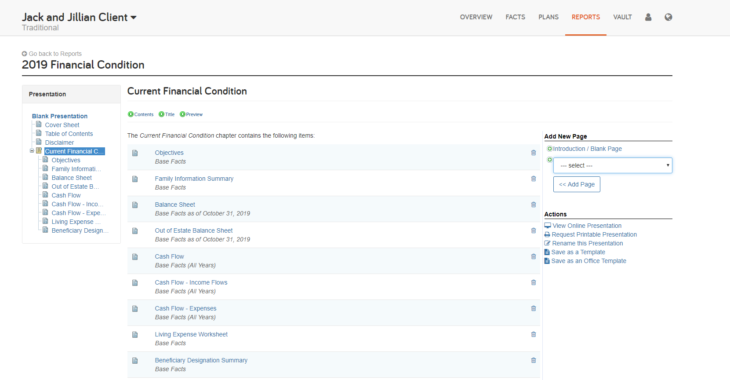 You can even create a folder specifically to house these records.
To learn more about sharing reports and presentations with your client, check out Sharing a Presentation to the Client Vault.