Stay up to date on the latest eMoney news. Each month we release product updates to enhance your eMoney experience and help you to work more efficiently. Many of these updates are driven by your feedback through our Request a Feature page.
To give you visibility into what's new and upcoming at eMoney, we've added a Product Update resource page.
How to Access the Product Update Page
The Product Update page is easily accessible through your advisor site with the eMoney standard subscription.*
To find the Product Update page, click Help on the top right side of your advisor site and select Product Updates under Featured Resources.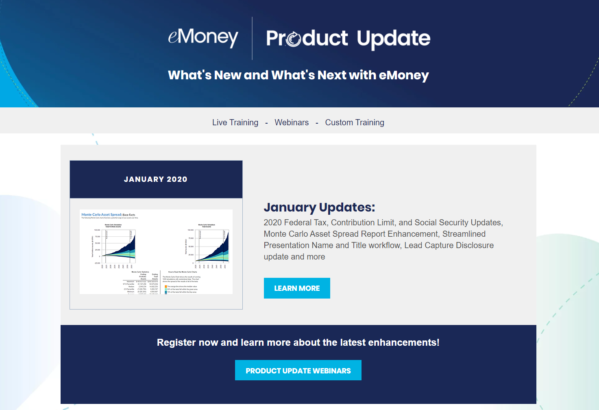 Product updates are listed by month, enabling you to see a release summary and track past updates. Click Learn More for additional information, including detailed descriptions and visuals for each new release. You can use the topics listed at the top of the page to quickly navigate to each section.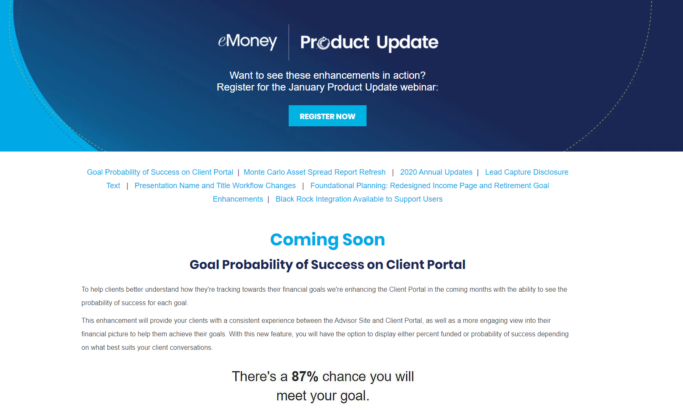 Register for Monthly Webinars
You can also join our live training team as they discuss the newest enhancements in our monthly Product Update webinars. Sessions are hosted on the last Tuesday of every month at 2:00 p.m. ET. Register for upcoming sessions and watch past recordings here or access the Webinar page by clicking on Webinars at the top of the Product Update page.
If you can't attend a scheduled session, register anyway. All registrants will receive an email recap each month.
Interested in receiving Product Update emails? Ensure You're Getting the Email You Need by customizing your email preferences.
*Due to partner review cycles, this page not available for enterprise subscriptions at this time.