How do you keep your clients engaged with their Client Websites? While some clients take to their portals immediately, others might at first, but eventually, lose interest.
Sometimes keeping your clients engaged can feel like an uphill battle. But an often overlooked feature of the Client Site can help you easily increase long-term engagement with just a little preparation during onboarding: Client Alerts.
Case in point: An advisor told us a story about a client who accidentally paid their childcare out of their mortgage account. Luckily their Large Expenses Alert triggered, notifying them of the unexpected withdrawal via email. They quickly transferred money from the correct account before their monthly mortgage payment was due – preventing a major issue.
Clients who take advantage of Alerts are more frequently reminded of the value of their Client Portal, and feel more connected to their finances – and to you. So if you haven't already started using Client Alerts to engage your clients, here's a quick guide to getting started.
Client Alert 101
With over twenty Client Alerts, you'll find notifications that focus on everything from a Low Cash Balance to when they're nearing their maximum FICA withholding. Many of these Alerts, which your client can manage in one place, can be triggered for an individual account or credit card, or, alternatively, can be set at a global level.
Advisors and clients can set up Alerts – it can even be done prior to rolling out the Client Website. When triggered, an Alert can both create a Homepage notification on the Client Website, and send an email directly to the client.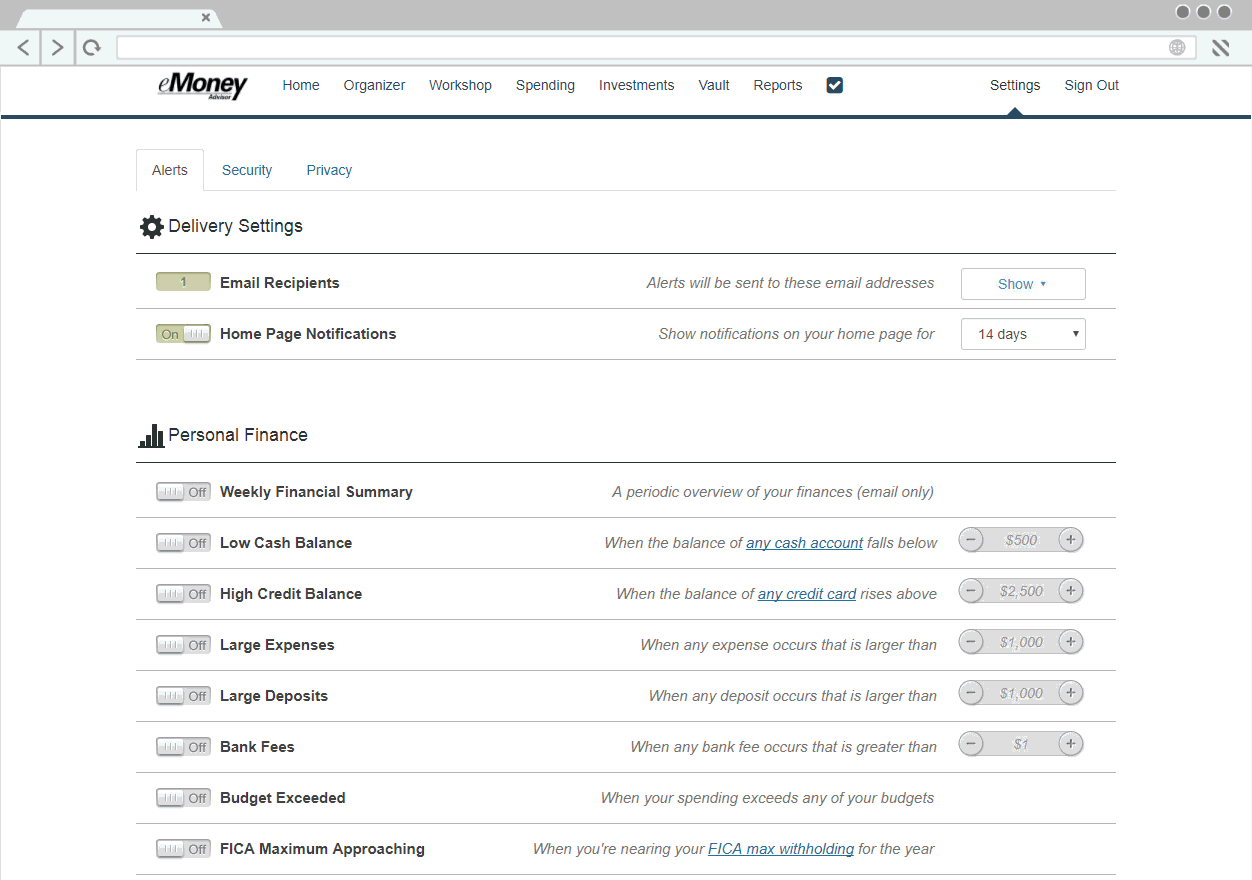 Properly tuned Alerts can save your clients from minor inconveniences to major crises.
Recommending Alerts to Your Clients
Often the best place to introduce Alerts to your clients is when discussing their Financial Priorities. Many of the default Financial Priorities (Investment Management, Managing a Budget, Saving for Major Purchases) align with corresponding Alerts. For example:
A client who is concerned about Investment Management would be well served by enabling the Unbalanced Portfolio or Concentrated Position Alerts.
Whereas a client who is concerned about managing his/her budget might appreciate the additional oversight provided by the Low Cash Balance, High Credit Balance or Large Expense Alerts.
Use this discussion as an opportunity to recommend Alerts as a way for your clients to stay on top of what matters most to them.
Pro Tip: Advanced Analytics users can use the Client Website Last Login chart to target unengaged clients with a focused communication about the Client Alerts feature.
After all, whether your client is concerned with accumulation, utilization or preservation of their finances, there is a Client Alert available that matches their needs.
---
Question about alerts? Give us a call at 888-362-8482 or send us an email.