Alerts help you track client activity and notify you of opportunities relating to your clients in eMoney. Never miss an important event by setting alerts that trigger when your client completes onboarding, logs into their Client Portal, or makes changes to their data.
Let's look at how to access, enable, and manage your advisor alerts in eMoney.
Access Alerts
To access alerts, click on the bell icon at the top of your toolbar and select Manage. Here, you can customize your alert options and settings. There are two alert categories–My Alerts and Client Alerts.
My Alerts are personal alerts you can set for yourself so you know when a task is overdue or when a lead is added through Lead Capture.
Client Alerts are for individual clients. They include General Alerts and Investment Alerts that will notify you of client activity, investment changes, or important dates.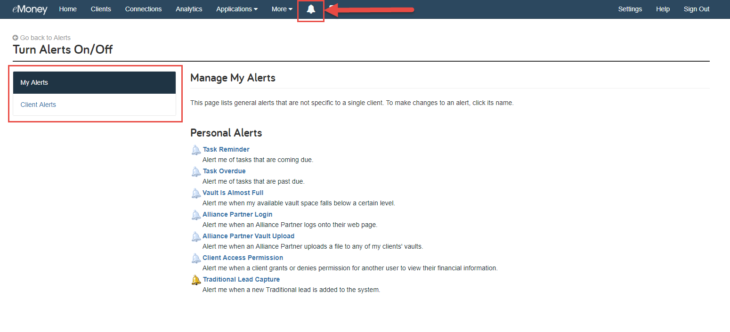 Enable Alerts
To create a Client Alert, choose a client from the drop-down list, then simply click on the bell icon next to the alert you want to enable.
The bell icon changes color based on the status of the alert. Light blue indicates a disabled alert. A yellow bell represents an enabled alert that hasn't been triggered yet, and a red bell is a triggered alert that requires action. You'll know to contact your client or complete an action when you see a red bell.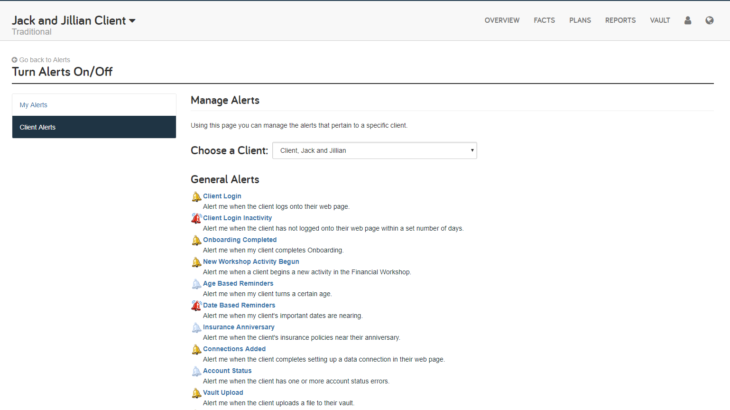 Alerts Settings
Client Alerts can be customized and saved for all clients. To access the manage alerts page, click the name of the alert. Here, you'll set alert parameters, enable alerts for all clients, and select delivery options.
Each alert will have different parameters that you can set. For example, if you click on the Client Login Inactivity alert, you'll be able to set an inactivity limit. If you click on the Date Based Reminders, you'll be able to add the event, the day it occurs, and how many days in advance to be notified. After adding this information, click Save.
You can then Save For All Clients under Global Settings. This will save alert settings for all of your existing clients and use them as the initial settings for future clients.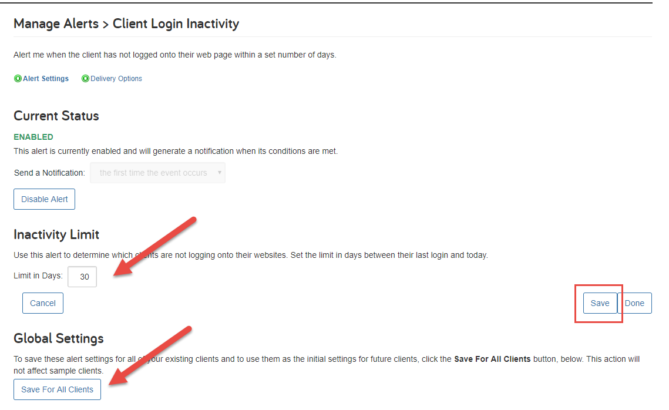 Alert Notifications
Finally, let's look at how to keep track of alerts. Triggered alerts automatically show up in your Financial Feed on the homepage of your advisor site. You'll be notified when an alert is triggered and you can click on Dismiss to remove the notification from your Financial Feed. To reset the alert, you'll go to the Manage Alerts page and click on the red bell icon next to the active alert.
However, if you're concerned you may miss an alert on your feed, you can also use the Delivery Options to get a notification sent directly to your email.
Click on Delivery Options next to the second green circle in the Manage Alerts page. Add a user or an email address, and click on the appropriate button to the right. You can add more than one email address to receive the alert notifications. Please note, delivery options cannot be saved for all clients-you'll need to add your email address for each client you want email notifications for.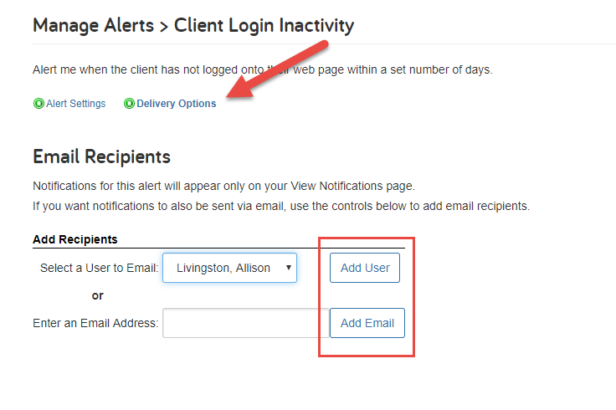 Alerts are a great way to stay up to date on your client's activity in eMoney. To learn more about setting up and enabling alerts, visit our user guide.
Have a question? Give us a call at 888-362-8482 or send us an email.