You can find connection resources in a variety of ways — The Knowledge Base, the eMoney blog, a call into customer service, but have you checked out the Connection Resource Center?
The Connection Resource Center provides all the information you need. It'll keep you and your clients informed as we transition the top client connections to API-based data aggregation and also provides resources on how to set up and troubleshoot connections.
Let's take a look what you can find on this page.
Understanding the API Initiative
It's important to understand what data aggregation is and why it's important. The API Initiative section explains data aggregation, provides updates on the API transition, and ensures your clients have the resources they need when their connections start to transition.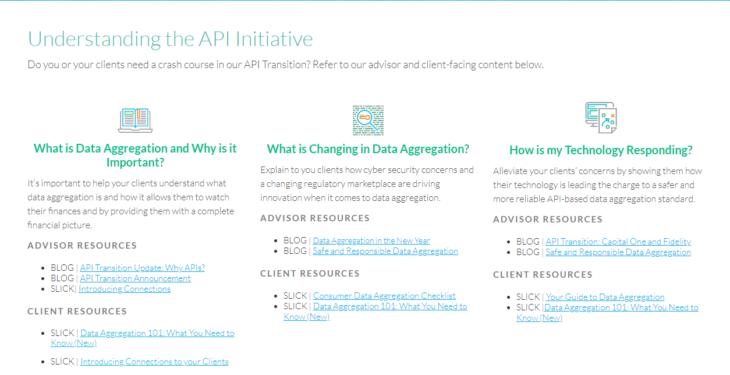 Connection Resources
But what about keeping your current connections up to date? The Connection Resource Center also offers:
Educational blog posts, videos, and webinars to help you understand and communicate around connections with your clients.
Advisor and client connection troubleshooting tips
Guides to help clients understand and set up connections on the Client Portal
Check out the Connection Resource Center here!
Have a question? Give us a call at 888-362-8482 or send us an email.