eMoney Advisor has marked 20 years of transforming the financial advice industry through planning-led solutions. Founded at the end of the dot-com bubble in June 2000 in Radnor, Pa., eMoney was created to make advisors more efficient by leveraging the internet. Over the last two decades, the company expanded its client base to more than 70,000 financial professionals by developing best-in-class digital tools ranging from advanced planning software to compliance, analytics and marketing solutions.
"At eMoney, we've experienced tremendous growth over the last 20 years, even as financial planning technology has become more competitive," said eMoney's CEO Ed O'Brien. "We remain committed to helping financial advisors and firms more efficiently reach and serve a broader range of clients, and we believe technology will continue to be that connector."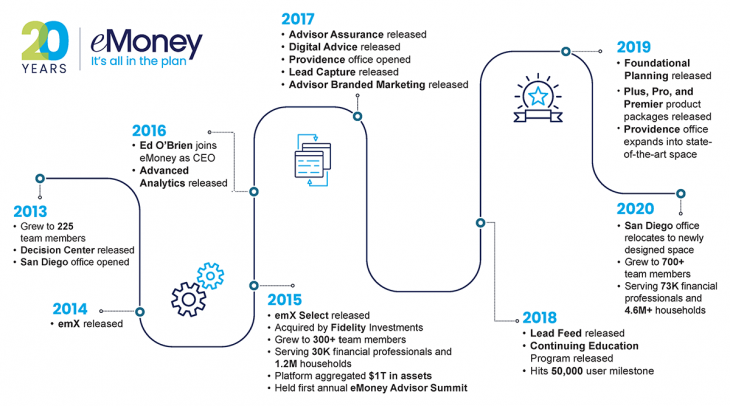 As of June 2020, eMoney's team of more than 700 people serves 73,000 financial professionals and more than 4.3 million households. An internal celebration will be held at a Town Hall meeting July 15 to recognize the 20-year milestone and reflect on eMoney's rich history.
"As we celebrate this exciting milestone, we understand none of this would be possible without our talented team and the support of our clients. We thank them for their continued commitment to eMoney over the years and for their unwavering desire to deliver financial advice using technology and innovation," said O'Brien.
To read the full press release, click here.
Get a free trial to see how eMoney can help your firm grow during the next 20 years.