All too often, advisors have to find better ways to integrate their technology stacks. In fact, in the 2017 InvestmentNews technology survey, 79 percent of advisors list "a lack of technology integrations" as a serious challenge to their businesses.
That's why integrations have, and will remain, one of the pillars of the eMoney platform.
Earlier this year, we released new integrations with Schwab and Envestnet's Tamarac. Now, we're releasing our latest integration with iRetire® by BlackRock.
Featuring single sign-on access from eMoney to iRetire's platform, this integration, free of charge to all eMoney users, streamlines workflows by seamlessly connecting iRetire's engaging retirement planning module to eMoney's comprehensive planning platform.
---
What is iRetire?
iRetire by BlackRock is designed to help advisors have more efficient conversations about retirement so that clients can understand where they stand relative to their saving and spending goals, and how their choices today potentially impact their outcomes later.
With iRetire, you have a repeatable and engaging process to help your clients reach and maintain the income they want in retirement, while helping you evolve and grow your business.
BlackRock understands that more than 60 percent of investors fear not having enough money in retirement. And with extended retirements, harder-to-find investment returns, and shifting markets, the old rules of thumb about how much to save for and spend in retirement simply don't work anymore.
iRetire helps you manage your client's journey by illustrating trade-offs between their needs, preferences for risk, retirement date, saving, and spending.
Ready to get started?
Log into eMoney and go to Applications > View All Application, then click on the iRetire by BlackRock tile to view the integration support page.
Next, click on the green Turn On button. You'll then be prompted to Connect.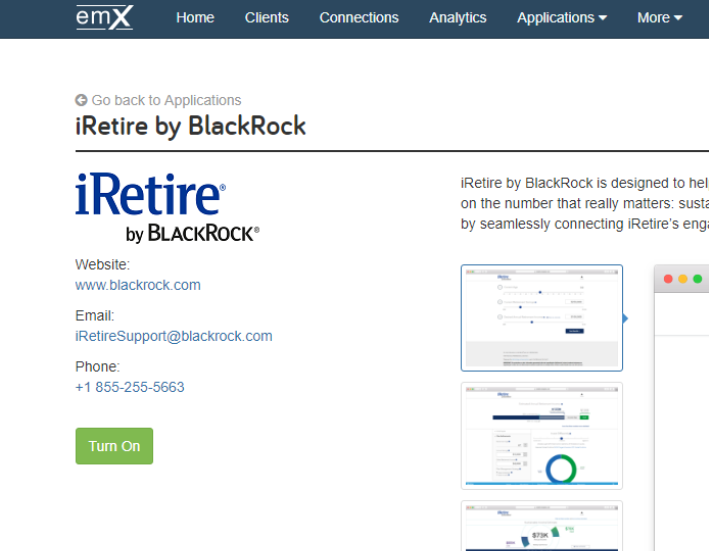 Click the I Agree button to accept the user agreement.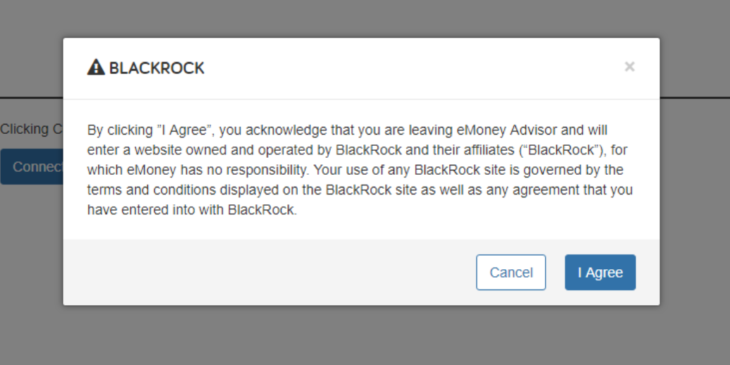 And you'll be redirected directly into your iRetire platform.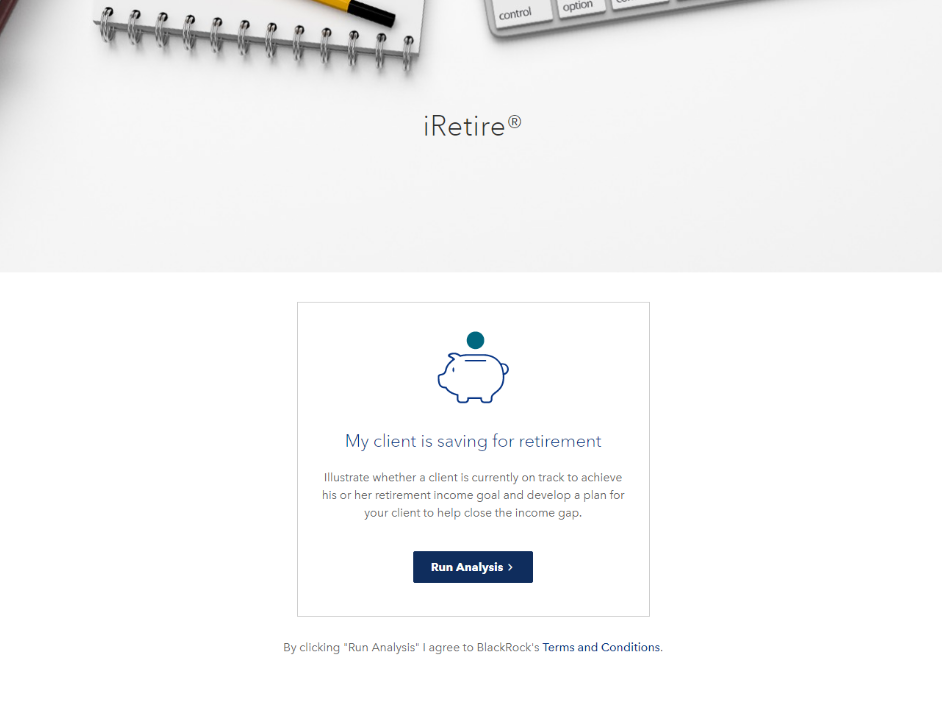 That's it!
For enterprise partners who follow a review process, this new integration will be available for review during our next cycle. Stay tuned for more information about dates.
---
Questions? Give us a call at 888-362-8482 or send us an email.