The Department of Labor's (DOL) Fiduciary Rule is now official, making a streamlined compliance strategy a critical first step for those businesses wanting to get ahead of the Rule's affects.
As part of eMoney's Fiduciary Framework, our Advisor Assurance product gives advisory firms the head start they need through the documentation and archival of key advisor-client interactions throughout the entire financial planning process.
And as part of our commitment to improve the way Advisor Assurance delivers those compliance tools, we've implemented several updates that will allow you to work more efficiently. Here's what's new…
Quick Filter Tabs
New Quick Filter tabs will allow users quickly view events related to similar event categories. As a compliance user, this will allow you to easily parse your data by Login, Presentation, Vault, and Fact based events, saving you time when auditing and searching for related events.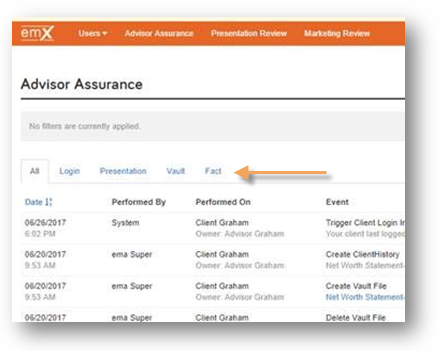 Two New Filters
Our two newest filters make it easier to organize and classify your data to get the information your business needs.
Performed by (Role) provides a brand new view of events solely performed by client users or non-client users.
Event Category helps you view related events that are specific to a defined event category, adding, even more, specificity beyond what's provided by the new Quick Filter tabs.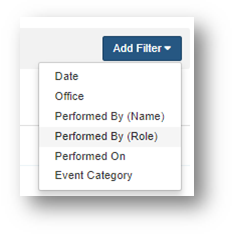 Client Owner Field
We've also added the owning advisor's name to the Performed On column, below the client name, so compliance users can easily identify a client's advisor if the owning advisor did not make the client record change.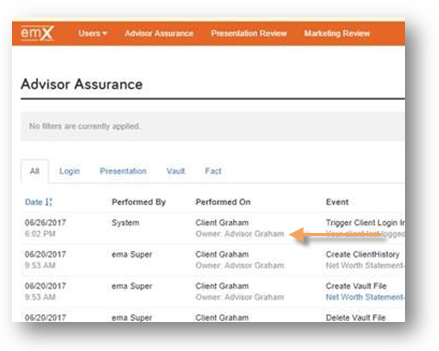 ---
For more information on Advisor Assurance, click here.
Create the premier compliance package by combining Advanced Analytics with Advisor Assurance. Join our webinar on Wednesday, July 26 at 12pm ET to learn more.