We recently shared how to create a comprehensive business update during COVID-19 with clients. Now that you're—hopefully—getting acclimated to using Advisor Branded Marketing to help with your email outreach, it's time to set up a regular habit to keep the two-way dialogue going.
In this blog post, we'll focus on two main topics, including best practices and some guidance:
Staying in Front of Clients Regularly
Leveraging Social Media to Promote Your Weekly Emails
Staying in Front of Clients Regularly
Stay in front of your clients easily by sending a regular email. The COVID-19 landscape is evolving rapidly from one hour to the next. As the situation progresses, the email you sent last month may not be entirely relevant anymore. Reach out regularly with your perspective on market changes, what you expect to happen in the short-term, and how your office is responding is important at a time like this. It's more important to be timely than to have all the answers.
Regular Email Tips
We recommend sending bi-weekly emails during COVID-19. Pick a day you can commit to and hold yourself accountable to pressing "Send" on that date. In those outreaches, provide your perspective on changes that happened in the market since your last communication was distributed. You can do this a number of ways:
Regularly check the Industry Insights folder in your Content Library for the most recent "Market Matters" for timely market updates. These are professional, timely, and client-friendly updates, which supply excellent information to share with clients. If this is your approach, we recommend pulling out a few key takeaways, and link clients to the PDF if they'd like to get more information.
Host a reoccurring webinar. If you have a platform to host a webinar and are comfortable communicating with clients in this way, this should be relatively straightforward. You'll just schedule the session, and include a link to register in your weekly emails. If you don't have a system, there are a number of platforms like Zoom and GoToMeeting that have free versions you can take advantage of.
Record a one-minute video recording. You can record yourself from your home office, sharing some of your key takeaways. This is a visual and personal way to communicate a message to your clients. Be sure to keep this recording brief!
Consider a newsletter. If you already have a newsletter to clients in place, you can adapt your newsletter to be relevant for the situation, such as primarily focusing on COVID-19 content found in ABM. Try to send one"Client update" email, and replace the other outreach this month with your newsletter. This is a creative way to stay in front of clients weekly while switching up the email format a bit.
Communicating this frequently is likely more than you're used to, so don't wait until it's time to distribute your communication to get started. As soon as one communication goes out, start getting your thoughts together for the next one. That way, when you sit down to put it together, you already have a framework started.
Leveraging Social Media to Promote Your Weekly Emails
Social media comes with big benefits, especially if you're connected with your clients online, as they'll appreciate your voice on their regular channels such as Facebook, Twitter, and LinkedIn. Although social media is not always the most natural channel for advisors to gravitate towards, incorporating this channel into your communications strategy provides another means of get your message through to clients.
Social Media Tips
Keep the message consistent. Social media posts should be focused on the same topics you cover in your weekly outreach.
Post regularly. We recommend posting three times a week. If you're not able to message via social media three times a week during this time, posting as often as you're able to is great, too.
Consider your audience. When posting on social media, you're not only communicating with existing clients, but you're reaching prospects. This is an opportunity to showcase your unique tone and provide an example of how composed and knowledgeable you are. If prospective clients are dissatisfied with their advisor during this time of need, your name could be top of mind.
Listen. You don't want to blast out content and have no indication of whether those communications were a success. So pay close attention to feedback and comments.
How to Share Content to Social Media with ABM
Sharing content to your social channels takes just a few clicks in ABM.
Select a piece of content from the Content Library that aligns with the updates you are providing in your weekly emails.
Then, select your channel: Facebook, Twitter, or LinkedIn.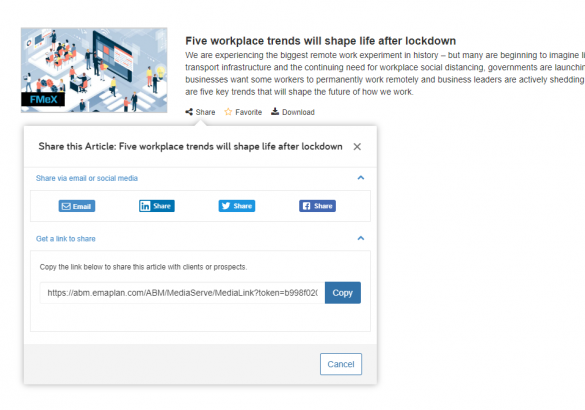 Finally, draft your own message and it will be posted along with the link to the content, and click Post.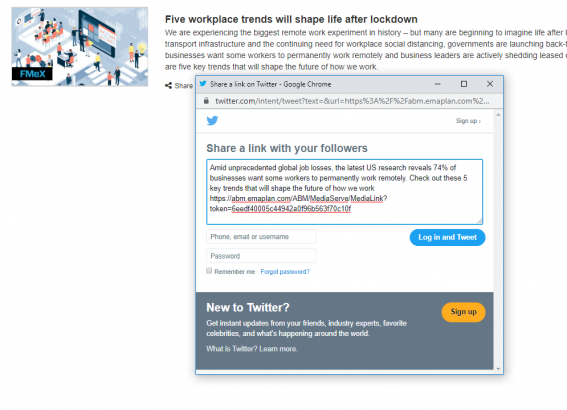 You 3-month free access period ends July 15, 2020. More information about your free access to Advisor Branded Marketing can be found in this FAQ blog post.
And for more insight into best practices for planning during times of disruption, check out our recently recorded webinar series.
Any additional questions? Contact eMoney Client Support at (888) 362-8482 or send an email.