The fate of the DOL Fiduciary Rule remains unknown due to recent discussions. Aside from the DOL outcome, advisors will continue to have increased regulation over how they are serving their clientele.
The Fiduciary Framework initiative provided by eMoney will continue to provide advisors and firms with the tools they need to create a framework that will better assist with their compliance strategies. To support our advisors, eMoney has developed a Fiduciary Framework – a mix between existing functionality, product enhancements, and new tools. This is NOT a single new product, but more of an initiative aimed at providing advisors and firms the tools they need to be more DOL compliant.
A functionality that can help streamline the data gathering process so you can act in the best interest of your clients is by using the Automated Onboarding feature on the client website for both new and existing clients. This function will give the clients the ability to add their own information in their own time.
The client will answer a series of questions that brings their financial picture together by using both quantitative and qualitative information. Some preexisting functionalities that will help streamline the data gather process is using the account aggregation features that will give you up to date account values on your clients account so you're showing the most accurate information. As well as using the fact finder and reviewing your client's prior fact gathering can be beneficial to ensure that you have the most up to date information.
Developing and prioritizing goals can be compiled by using the Advisor-entered goals, which can be entered under the FactsàGoals per individual client. Once these are agreed-upon the advisor can use the suite of basic planning tools such as the needs analysis to show a comprehensive plan of how the client will achieve those respected goals. Prioritizing multiple goals after illustrating what and what cannot be completed using the planning tools, an advisor will want to assign observations and next steps for how we are going to completely develop that goal. Observation and next steps in the client's fact finder will help clearly define who is responsible for which task, and provide evidence later as to what recommendations were made.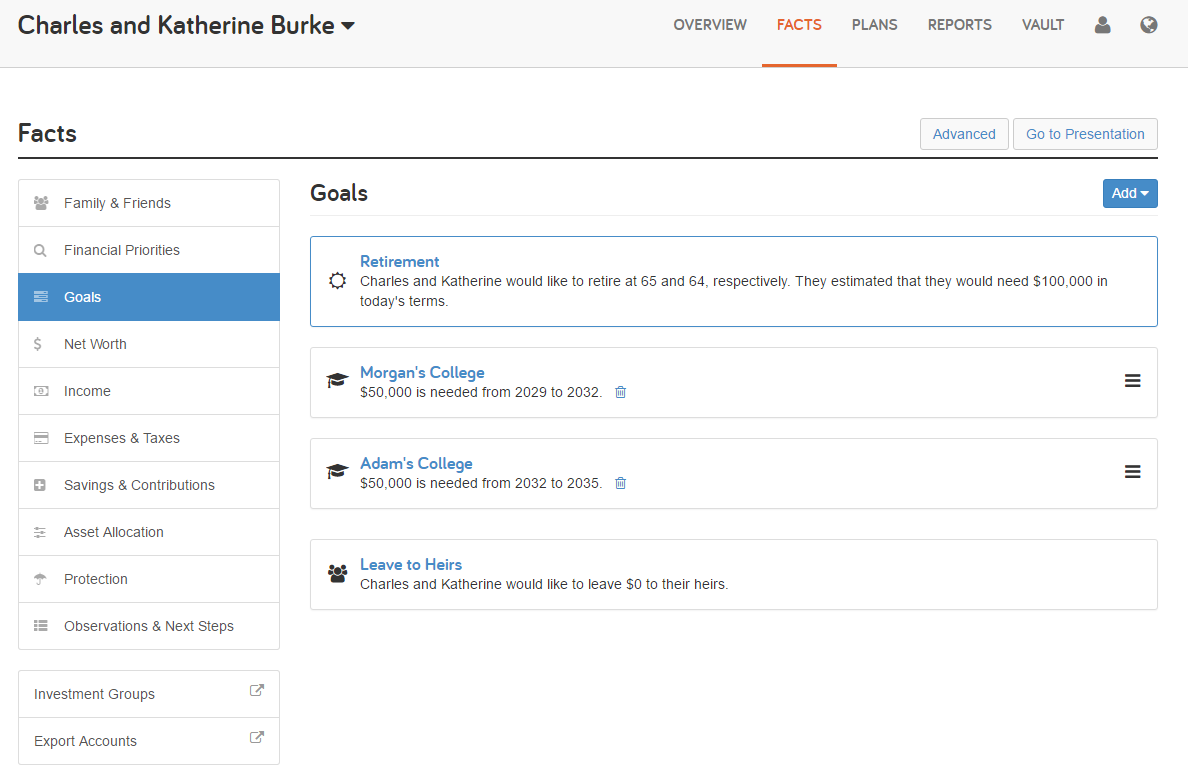 Presenting recommendations to your client can be completed in the eMoney system by using the presentation center once you have reviewed all the applicable reports for your respected client. In the presentation center, you can create templated presentations and a compliant presentation that can be used across your book of business. The grouping of reports can provide a reliable effort to your business to ensure that you're presenting your recommendation to your client in the best possible way.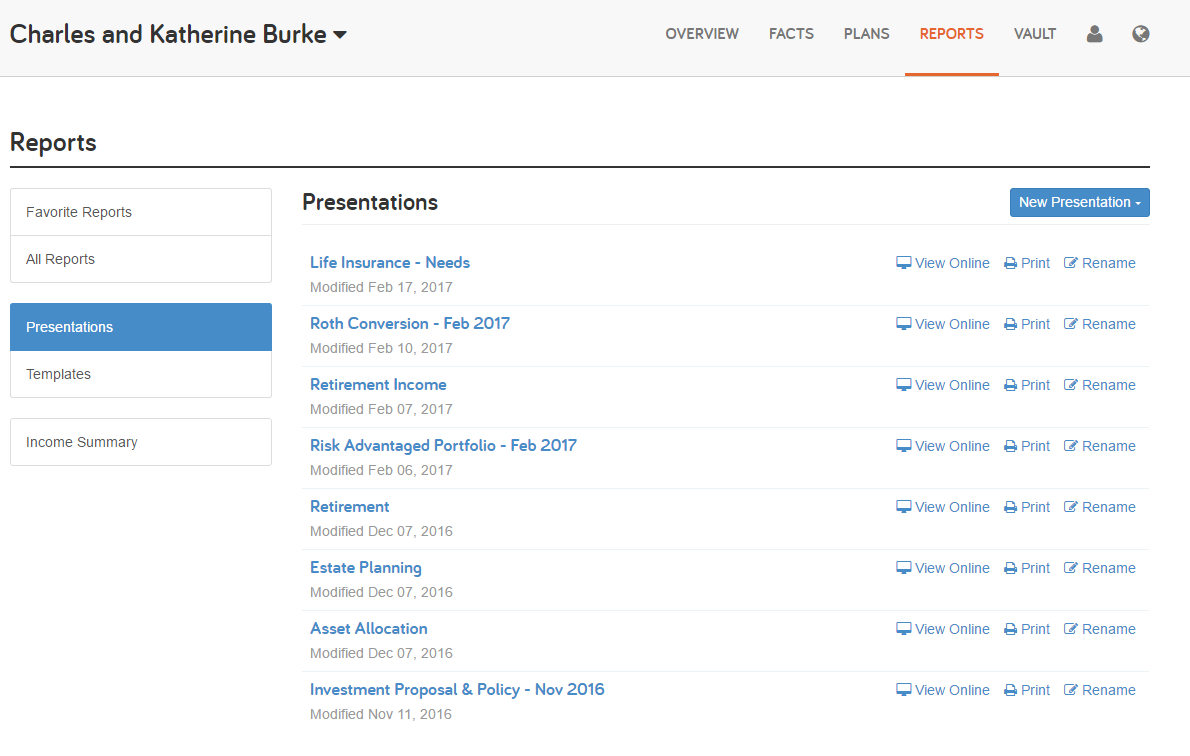 After you have completed all the fact gathering, developed, and prioritized the client's goals as well as presented those recommendations you can use some follow-ups to ensure the client continues to move forward in a positive direction. Reevaluating the recommendation can be done by utilizing the screen sharing feature built into eMoney.
Also, alerts can be set both the advisor website and the client website to set important reminders of when a client's account balance may change the value or if their asset allocation needs to be reallocated.
Interested in more eMoney training?  Sign up for next week's webinar on Estate Planning Reports & The Distribution Center.