Analytics Benchmarking or Trending?  You decide! 
Fill out this survey to weigh in on what means more to you: Benchmarking or Trending.  We'll take feedback from the first 50 participants!


---
Since the release of Advanced Analytics, one of the most frequently asked questions we've received has been about the key differences between Classic Analytics and Advisor Analytics Pro.  Sign up for next Wednesday's webinar for an in-depth review and discussion of the key differences or continue below for a basic overview.
---
Classic Analytics is offered free with the emX and emX Pro advisor subscriptions and allows advisors to view, comprehend, and act on opportunities for their clients and book of business.  In contrast, Analytics Pro takes this to the next level providing Advisors a deeper and more customizable view into their business providing access to never-before-seen opportunities.
Classic Analytics displays six charts including Assets Under Management by Account Type, Assets Held Away by Account Type, Assets Held Away by Institution, Assets Under Management by Institution, Clients By Age Group, and Asset Status.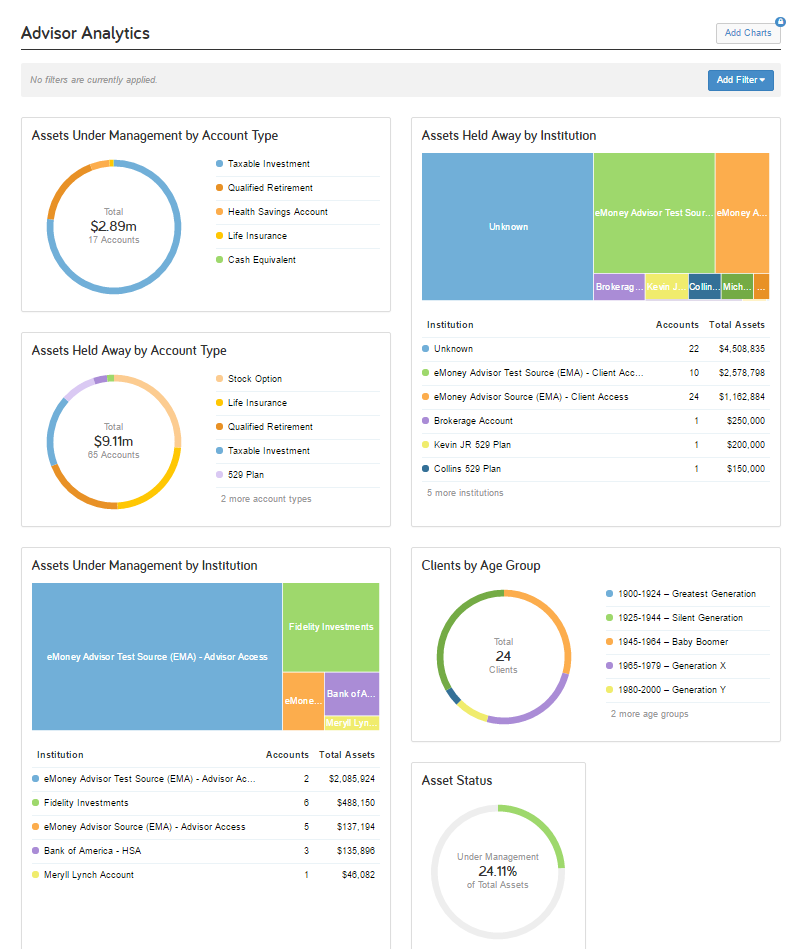 Classic Analytics also provides 10 filters to assist with drilling into data and opportunities within your business.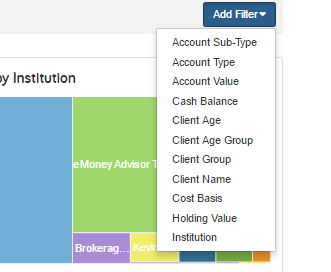 ---
Advisor Analytics Pro offers all of the features of Classic Analytics and includes access to up to 21 different charts that you can drag and drop to customize your view and more filters to analyze your business. With insights into such things as client website usage and held away assets not available in Classic Analytics, it gives you the tools you need to bring more assets under management and improve your overall client experience.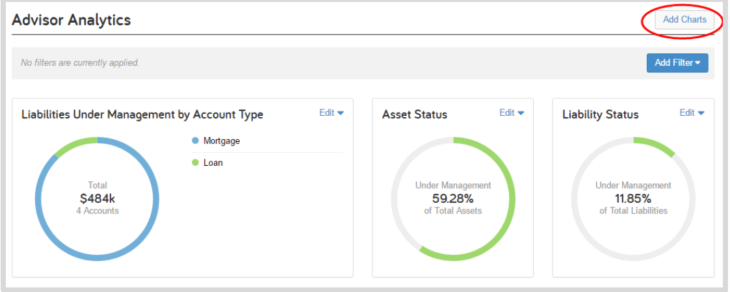 Advisor Analytics Pro allows access to all support roles, advisors, and planners, giving the ability to customized and view your business as a whole. This feature improves collaboration across the business allowing additional ways to identify client opportunities, trends, and improvement for the client experience.
Analytics Pro will continue to improve by adding additional charts and information based on your feedback. We recently released a client net worth chart– giving you ease of access to your clients ranking. With more compliance and fiduciary coverage related charts set to be released soon.
---
For more detail on the key differences between Classic and Advanced Analytics sign up for next week's webinar!