We hope you're enjoying your recent upgrade to emX: The next generation of the eMoney experience!
The reception has been great so far and we're gathering lots of feedback to help ensure your eMoney experience remains second-to-none. To help you continue to acclimate yourself to the new platform, we've put together some of the most common emX questions received in the first week since its launch.
If you have any other questions or feedback on emX, feel free to contact our customer support team at 888-362-8482 or customerservice@emoneyadvisor.com.
---
Why did you update the look of the site?
While we're driven to lead through innovation, the defining principle of eMoney's existence will always remain the same: An unwavering dedication to helping advisors and their clients achieve success.  That same principle was at the foundation of our decision to update our platform to emX.
Prior to any development changes, our top software developers traveled the country to interview and collect feedback  on the look and functionality of the site, from hundreds of our advisors. That feedback was used to shape the new look, feel, navigation and functionality of our tool, to ensure we were delivering a solution that meets our clients' growing needs.
---
Do we have the option to work from the original Advisor site platform or emX?
In order for our tool to continue to meet the needs of today's elite advisors and help them rise above their competition, our platform needed to evolve with the technology of the times. However, we know change can sometimes be difficult. It's our top priority to ensure your experience is second-to-none. Once you become more familiar with the new look and navigation of the tool, we believe the new emX user-interface and functionality will provide a superior experience for you and your clients.  We are committed to providing you with the individualized guidance and access to resources you need to become comfortable using emX.
---
What's the best way for me to learn the new navigation?
Practice makes perfect! The new site was designed to simplify your operations, and we're confident you'll agree that emX is faster and easier to use once you become acclimated to the changes. To help you become more comfortable with the navigation and get a better feel for the new user-interface, use the following reference as a guide. Here's where to find some of the most popular tools and functions:
Connections: From your Advisor Homepage, click the Connections tab in the main menu at the top left of your screen to view all connections in the system. OR from your client list, click on a client name and select Go to Connections to manage or view connections for that specific client.
Alerts:  From your Advisor Homepage, click on the icon that looks similar to a bell, located in the main menu at the top of the screen. The complete list of Alerts for all clients will appear.  You can also view and manage Alerts for each specific client by navigating to their Client Overview page, and clicking on the icon that looks like a silhouette.  Under History, you can see all Alerts set up for that particular client.
Planning tools, including the Decision Center: From your Advisor Homepage, navigate to your complete client list by the Clients tab located in the main menu at the top of the screen, or by searching for a specific client in the client search bar (next to Add a Client) on the top right of your screen.  Once you're on the Client Overview screen, you'll see the Plans tab, on the sub-navigation menu on the right side of the screen. Under Plans, you can access the Decision Center, Advanced Planning, Goal Planning and Distribution Center tools.
Reports: From your Advisor Homepage, navigate to your complete client list by the Clients tab located in the main menu at the top of the screen, or by searching for a specific client in the client search bar (next to Add a Client) on the top right of your screen.  Once you're on the Client Overview screen, you'll see the Reports tab, on the sub-navigation menu on the right side of the screen. You can also access Reports by clicking on the More tab on the main navigation bar on the Advisor Homepage.  From there, you'll see and potion for Advisor Reports.
---
Where can I view all Advisor and Client Connections in one place?
From the Connections screen, use filters to display All Connections, Advisor Connections only, Client Connections only, Connections with Tickets and Inactive Connections.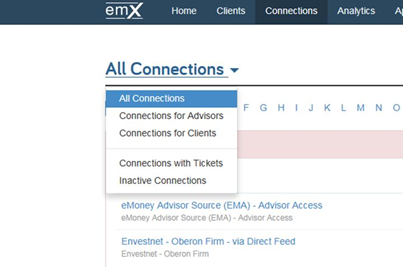 To get to this page, click on Connections on the Advisor Overview and then click All Connections to see the drop-down menu that allows a user to filter by advisor connections or client connections.
Please be aware that when you view Connections for Clients, this filter will only show their client connections.  If they have any accounts connected via an Advisor Connection, they will not display here.
---
When will I have access to the Envestnet integration?
The Envestnet integration went live for all users on the emX platform in December. With the integration, Advisors are able to import clients and link their accounts from Envestnet, in emX.  Accounts will automatically update daily and advisors will enjoy the convenience of single-sign-on access from one application to the other.
Click here to learn more about your Envestnet integration.
---
What's the difference between the planning tools now available in emX?
emX delivers a variety of financial planning tools and options to meet the diverse planning needs of both our advisors and their clients. See which tool is right for you.
The Decision Center: Interactive Cash Flow Planning
Help your clients visualize their financial plans. In the Decision Center, you can leverage Advanced Planning scenarios to present and analyze your clients' current financial well-being, model techniques to meet their changing needs, and show them in real-time how their financial decisions today impact their financial future.
The Distribution Center: Interactive Estate Planning
The Distribution Center helps you model complex estate planning and distribution scenarios.  Demonstrate topics like survivor Income and enjoy easy access to flow charts that allow you to collaborate on distribution options.
---
Where can I turn for more information?
eMoney offers one of the most comprehensive training programs in the industry, facilitating a range of options to give you the support you need, when you need it.
Available 24/7:  Visit The Knowledge Base, your one-stop resource for eMoney training materials whenever you need them, offering more than 100 self-directed instructional videos, printable user guides, pre-recorded webcasts, podcasts plus more.  To access The Knowledge Base, simple click on the Help button in the top right corner of your emX dashboard.
On the go: Access to the training support you need, from wherever you are. Live weekly webcasts cover a range of topics from basic navigation to advanced planning and help keep you informed on system updates and more. Enroll now.
In the classroom: Sign up for an instructor-led training session for a collaborative, hands-on learning experience designed to help you learn the software and integrate it into your practice. Enroll now.
Other resources on the web:

 emX Release Notes: A detailed explanation of each feature update.
 It's Here Landing Page: Included in our client communications, the web link provides a high level overview of the enhancements in emX and how each benefits you.
---
How do I stay informed about emX and future product enhancements?
Be sure to follow eMoney on Twitter, Facebook, LinkedIn and YouTube for the latest information and news about emX, industry trends and best practices from other eMoney users.  We also send information on the latest product announcements and training opportunities via email, so look for our communications from the announcements@emoneyadvisors.com and training@emoneyadvisor.com email addresses.
If you're not sure if you're receiving the latest email communications about emX, check your email spam settings and make sure eMoney email addresses are on your safe senders list. If you've opted out from receiving eMoney's communications in the past but would like to again receive them, contact customer service at customerservice@emoneyadvisor.com to give your permission to be added back.