Time is our most precious resource. But until the scientific community finally cracks the mystery of time travel, we'll continue to look for ways to save you as much time as possible.
To start, we've put together this list of three of our software's best time-saving features. Using these hidden gems will help you handle all your clients' planning needs in as efficient a way as possible.
1. Fact Defaults in Settings
Our software works best for our users when each client's profile is filled in with as much information as possible. But with so many variables to enter, putting a client's eMoney profile together can take some time. That's why you should check out the "Fact Defaults" section under general settings.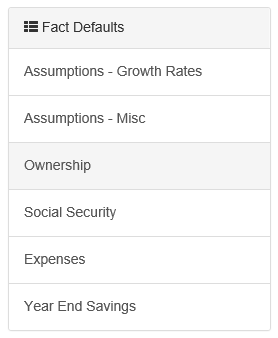 Fact Defaults allow you to set global settings for new client profiles. Let's say you want each of your clients' taxable investments to default to a particular pre-retirement growth rate. All you need to do is click into the "Assumptions – Growth Rates" sub-header under Fact Defaults and dial it in to either one of the system's pre-selected growth rates or a custom percentage. Similarly, you can set defaults for settings as wide ranging as your clients' living expense growth rates, property ownership policies, and year end savings strategies.
These various Fact Default options save you time when  creating new client profiles, allowing you to spend more time building plans.
2. The eMoney Knowledge Base
While our Client Engagement team is happy to answer whatever questions you might have about our software, our commitment to providing you with support doesn't stop once our phone lines close for the evening or weekend. The eMoney Knowledge Base provides a plethora of learning resources that our advisors can access 24/7.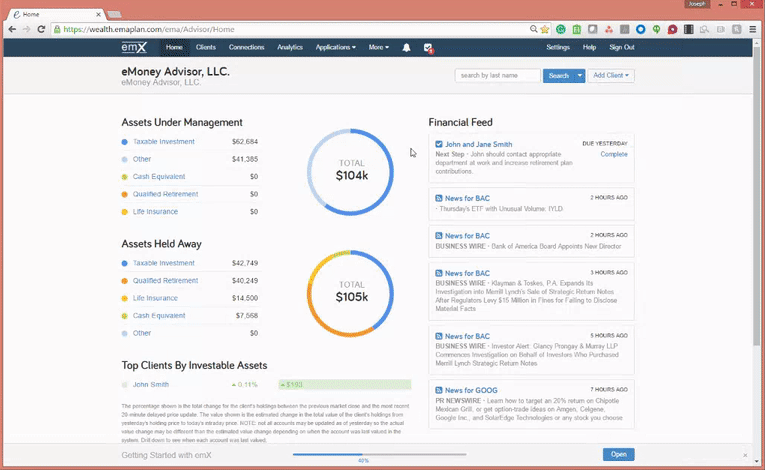 Our library of training materials features resources that can help users on all parts of the eMoney spectrum, from advisors just getting started with our software to experienced users looking to improve their mastery of our product. And with step-by-step PDF user guides, video walkthroughs, and interactive How To's of our software at your disposal, the eMoney Knowledge Base is sure to feature a helpful resource addressing whatever issues or questions you may be having. Follow the link to the eMoney Knowledge Base, located under Help on your Advisor Navigation bar, and check it out for yourself today!
3. Client Alerts
Wouldn't it be great if you could receive an alert every time a client logged into their client site, set up a connection, or uploaded files to the vault? We thought so, too. That's why we incorporated client alerts into the eMoney system. We believe they're one of the most helpful, time saving features of our software.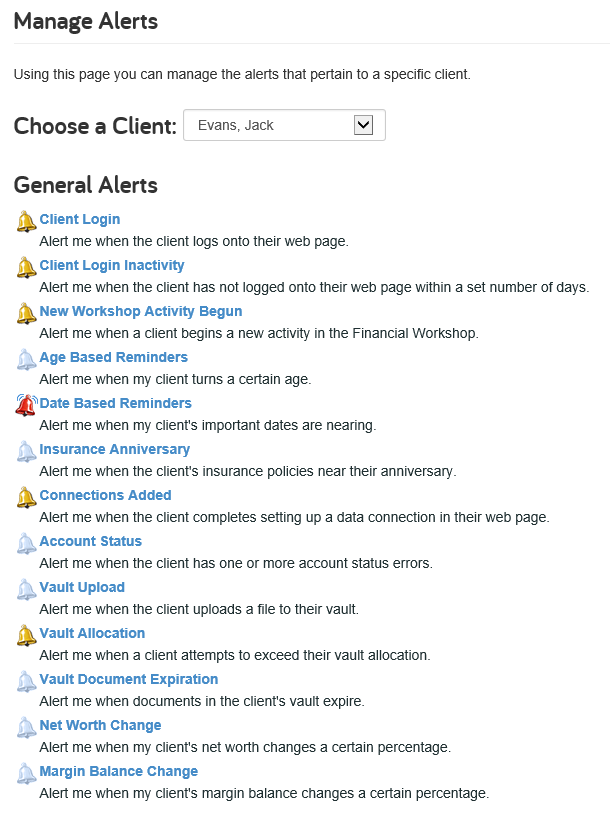 Clicking the bell icon at the top of your advisor overview and then selecting "Manage" allows you to make changes to your client alert settings. The best part? Each client can have their client settings individually managed so you can enable alerts that make the most sense for each specific client. These alerts allow our users to stay on top of all their clients' financial goings-on and demonstrate their value better than their eMoney-less competitors.
While these are hardly the only time-saving features of eMoney, they're easily some of the most useful. By utilizing them correctly you can start spending more of your time on the things that matter most in your business!