We know security is a chief concern of you and your clients. Which is why keeping our app, and the data that flows through it, safe and secure is one our top priorities. And aside from showcasing the value the client website adds to your clients' financial lives, having a conversation about the website's security features can help put their minds at ease and promote collaboration with you.
Here are a few ways to position the security features of the eMoney Client Website and Vault.
Client Website Security
1. The client website is Non-Transactional
Unlike many other online financial websites, accounts in eMoney do not allow the movement of money, withdrawels, or direct access. Rather, it just displays the most up to date account balances, giving clients a window into their comprehensive financial picture.
2. Password Protection
Each client (and advisor for that matter) has a unique User ID and Password. Consecutive incorrect log in attempts will lock the account preventing manual or programmed hacking attempts from occurring.

3. High Level of Encryption
The eMoney system uses a 256 bit Secure Socket Layer to scramble data. This is among the highest encryption in the industry and twice the encryption amount used by many other financial institutions.
4. Secured Data
Data is hosted at a secure facility with world class hosting server centers and continuously monitored and protected. Plus, that data is backed up in geographically separate locations, ensuring protection against natural disasters.
5. Routine Security Testing
We also commission third-party security auditors to assist with identifying any vulnerabilities and remediation efforts within the system.
Client Website Vault
The eMoney Vault allows your clients to share and store documents easily and securely. The Vault is accessible through the Client Website and helps with communication and organization of your client's financial information.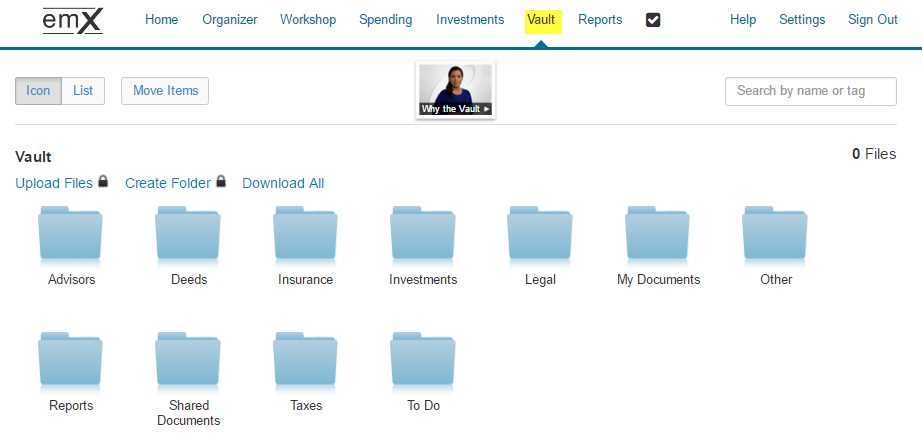 Clients can upload vault documents into the Shared Folder or the My Documents Folder, which is a private folder that is only accessible by the client.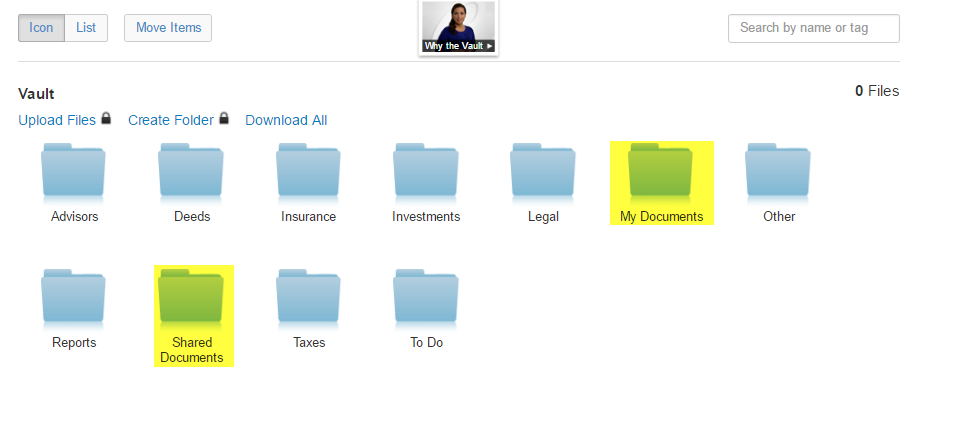 Once in the appropriate folder, your client can choose the Upload Files option.

The Choose File option then allows your client to search through saved documents to upload.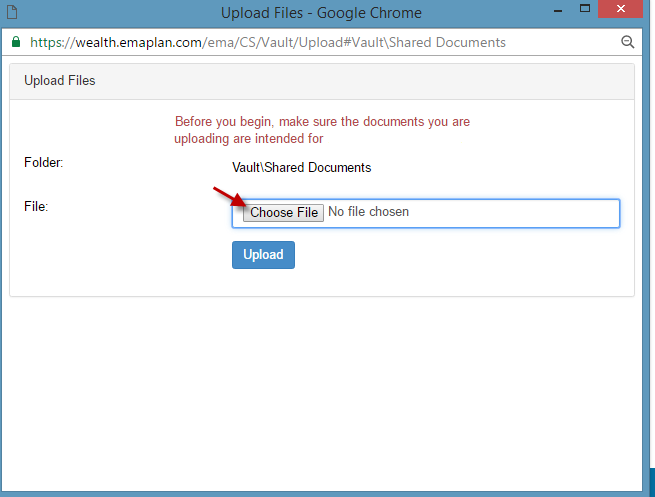 Once completed the client will see the document in the selected Vault folder stored securely and accessible at any time through the client website.
For Additional information on Vault Security and Upload Information you can download the slicks below: